CSL
'China won't compete even in 50 years' – Tevez slams Chinese players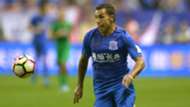 Carlos Tevez has slammed Chinese football, saying its players are "not good" and the country's national team won't be able to compete even in 50 years.
The Shanghai Shenhua striker has endured a rough spell in China, scoring just three goals in 13 Chinese Super League matches since signing with Shenhua in December.
Tevez, who is on a deal reportedly worth £615,000 a week, has struggled with fitness issues and recently had his manager Wu Jingui accuse him of being overweight. 
And the 33-year-old won't win over any new fans in China with his comments in an interview with French television station SFR Sport on Wednesday. 
"Chinese players are not as naturally skilled like South American or European players," Tevez said.
"Like players who learned football when they were kids. They're not good. Even in 50 years, they still won't be able to compete."
"Techniquement, ils ne sont pas bons"  L'ITW surréaliste de Tevez sur les joueurs locaux du championnat chinois  #BreakingFoot #CSL pic.twitter.com/BV7XhwfmuX

— SFR Sport (@SFR_Sport) September 19, 2017
Tevez's comments came just days after Shanghai Shenhua chairman Wu Xiaohui admitted the big-money signing hadn't lived up to expectations. 
"Our intention was to bring in an influential star player with high quality, and we all think Tevez could fit the bill," Xiaohui told Shanghai TV. "However, due to a lack of winter training and match fitness, he didn't meet our expectations."
Tevez has been consistently linked with a return move to Boca Juniors in his native Argentina, and his latest outburst has sparked outrage from Chinese fans.
Many took to social media to criticise the striker, with some stating he "does nothing but moan" and does "not give a shit about his job with a blatant show of disrespect for Chinese football".
Chinese Super League fans have become fed up, and one event went as far as to suggesting "he might as well hole up in Shanghai Disneyland with his 19 lackeys and not bother coming back".