Premier League
Terry pays tribute to Chelsea fans ahead of farewell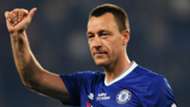 John Terry has sent an emotional tribute to Chelsea fans as he prepares to play his last competitive game for the club after almost 20 years of service. 
Terry joined the Blues as a teenager, and has since gone on to make over 700 appearances in all competitions, winning a total of 15 major trophies. 
Conte set to buy house in Italy
The 36-year-old counts five Premier League crowns, a Champions League and Europa League amongst his achievements at Stamford Bridge, where he will say farewell on Sunday in the season finale against Sunderland. 
But as he winds up an illustrious two decades at the club, he thanked supporters for sticking by him through the good times and the bad. 
"You picked me up when I was down, through the disappointments, it's down to you that I've picked myself up and got back on the football," he said in a message shared by the CFCUK fanzine ahead of kick-off.
21 de mayo de 2017
"Hearing you sing my name has made me feel like the best defender in the world at times, the players will all say that without you guys this football club is nothing. 
"When I signed here as a 14-year-old I never dreamed of doing what I've done in the game but let's celebrate today, it's going to be sad and really emotional for me and my family." 
Life after Chelsea is still uncertain for Terry, with the defender possibly staying in the Premier League  as Bournemouth and Swansea have shown interest.