KPL
TEAM NEWS: Okwemba, Imbalambala re-unite against Homeboyz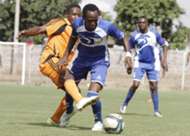 Former AFC Leopards players Barnabas Tiema, Martin Imbalambala and Charles Okwemba have been named in Vihiga United squad to face Kakamega Homeboyz.
The National Super Legue side hopes to down their opponents and qualify for the quarter-finals. Homeboyz have responded by naming strongest possible squad comprising of Athman Buki, Andrew Kulecho, Charles Momanyi, Moses Mudavadi and Wycliffe Ochomo.
Homeboyz Starting IX: Michael Wanyika, Athman Buki, Eric Ambunya, Charles Momanyi, Chikati Moses, Eston Esiye, Andrew Kulecho, Ali Bhai, Moses Mudavadi, Wycliffe Ochomo, David Okoth.
Subs: David Juma, George Odiwour, Elias Ochieng, Nambute Francis, Omukoto Festo, Edmond Mauda, Mike Khaduli.
Vihiga Starting XI: Tiema Barnabas, Oscar Omwami, Ombeva Dennis, Liuva Mophat, Ochieng Bernard, Martin Imbalambala, Mugone Kelvin, Clyde Senaji, Kyambade Rashid, Okwemba Charles (C) and Christopher Masinza.
Subs; Frank Mwenda, David Kavaji, Kevin Muhanji, Airo Godfrey, Jacob Atinda, Amos Kigadi and Gideon Abucher.