Western Sydney Wanderers
Former Sydney FC CEO Tony Pignata says Western Sydney Wanderers fan group RBB 'don't get it'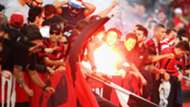 Former Sydney FC chief executive Tony Pignata has slammed Western Sydney Wanderers fan group Red and Black Bloc after their controversial actions during Sunday's derby at Allianz Stadium.
The RBB lit two flares during the first half and several members were seen wearing protest shirts against Football Federation Australia, in a match Western Sydney lost 3-1 after scoring the opening goal.
Wanderers management responded on Monday by shutting down the active supporters area at Spotless Stadium for this weekend's game against Perth before the governing body issued a please-explain show cause notice to the club - their fourth in two years.
Pignata was highly critical of the RBB's conduct and admitted he was worried about what punishment the FFA would give out to the Wanderers following their investigation.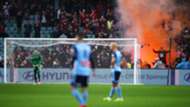 "The RBB still don't get it. They still light flares. They had the issue with the banner of Arnie at the last derby at ANZ Stadium last season. They just go out and think they are a law unto themselves," Pignata said on Football Nation Radio.
"They do need to be brought in. I know John Tsatsimas very well and I think he has probably made the right decision. He has told them 'enough is enough', but there is always a couple who is going to do it.
"Hopefully they can learn from this because I'm quite fearful for what the FFA are going to do to the Wanderers now."
🔴⚫ statement 🔴⚫

The bigger picture is the state of the game in this country. For all involved in football from grassroots up!@FFA @FOXFOOTBALL @TheWorldGame @wswanderersfchttps://t.co/DOau2yAQDs

— RBB Official (@RBB_net) February 27, 2018
Pignata spent five seasons as Sydney FC CEO, taking over in May 2012 before resigning three days after last year's Grand Final triumph.
He admitted to having problems with Sky Blue fan group The Cove, but explained how he sorted out the issues through dialogue.
"We're all for active supporters but do it in the right way. I had issues with The Cove, when they lit flares and stuff like that," he said.
"We sat down with the leaders and worked it through and they understand that if they want to continue that way, then they are not going to get everything they want."
The Wanderers have until 5pm on Thursday to respond to the show cause before the FFA decides on any disciplinary action.