Asian Cup Qualification
Syazwan admits to still being hampered by his troublesome hamstring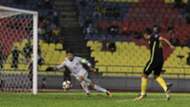 After two matches without a win in the final Asian Cup qualification round, Malaysia are left rooted in the bottom spot of Group B. The single point was achieved in Tuesday's 1-1 draw with Hong Kong, a result which left a lot to be desired.
Given that Lebanon and North Korea are generally accepted as the two teams that perhaps are on a different level, it was the old cliche six-pointer against Hong Kong, a side that was arguably closer in terms of strength to Malaysia.
Kedah's Syazwan Zainon was on tap to tap home a rebound after the ball had spun into his path, following Safiq Rahim's shot that hit a Hong Kong defender. The winger took his shot without hesitation and it was a precise finish to the near post, just three minutes after the away side had taken the lead.
Despite the lack of a win since the team's management was handed over the Eduardo 'Nelo' Vingada, Syazwan had little doubt that the Portuguese is the right man for the job. While results haven't been promising, Syazwan points to the incremental improvements to the players and the team as one factor why the team will continue to keep faith with Vingada.
"We all have high confident in coach Nelo. He has given us a lot of guidance. On a day to day basis, the players have improved working under him. Even though we have lost some games, our game have become better. He is a very good coach."
"Yes, the draw did reduced our chances a little bit. But the coach still trust us. Even after the match he told us not to lose heart and we can be better in the next game," said Syazwan to Goal after the match on Tuesday night.
Hong Kong kept a close eye on Syazwan throughout the match as they worked to limit his influence on the match. However, the winger was still able to produce good runs down the left hand side but his final ball left a lot to be desired.
In the two matches that Malaysia have played in this stage of the qualifiers, Syazwan has yet to complete the full 90 minutes. He was taken off after 85 minutes against Hong Kong which followed his second half substitution in June's match against Lebanon.
"I still have an old injury with my hamstring which I'm still not fully recovered yet. But I just wanted to play however long I can manage. I can still play around 60 to 80 minutes every game," explained Syazwan.
Malaysia will need a fit Syazwan for the crucial encounter against North Korea in October and if Vingada can improve Syazwan's final passes, Malayan Tigers' chances of getting a result in Pyongyang could well depend depend on the Kedah player's performance.