AIFF Super Cup
Super Cup 2018: David James - It's a disappointing way to go out of the tournament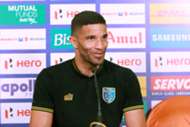 NEROCA FC stunned Indian Super League (ISL) side Kerala Blasters as they came back from a two-goal deficit to win the Super Cup pre-quarterfinal clash 3-2 on Friday.
Pulga and Prasanth K had put Kerala Blasters in front and dominated for most parts of the match. NEROCA came into the game after the 70th minute and put in a stellar performance, scoring three goals in the span of just 12 minutes to seal the fate of the match. 
NEROCA coach Gift Raikhan was understandably happy and said, "I knew that ISL team will play well in first half. They have good players and had the confidence to play against an I-League team. I knew that we will play well in second half. I know my team and know Kerala Blasters as well. Only thing is that we conceded a penalty goal."
Raikhan continued, "They held the ball in midfield; they played five midfielders and that's why they dominated. We needed to stay calm. We got chance in the second half and we scored. We are a fit team."
The NEROCA boss had mentioned in the pre-match press conference that he was under pressure to make it to the next round as the other two north-east sides, Aizawl FC and Shillong Lajong had qualified. "If Lajong can come back from 2-0 why can't we? I thank my players who remained focused and listened to me. The two players I changed - a right-back and a winger (Ashok Singh and Pritam Singh), they made the difference.
The Manipuri coach conceded that his tactics of playing a three-man midfield did not work in the first half which allowed their opponents to dominate possession. "In the first half, my plan did not succeed because we played with three midfielders. We didn't have space to play," said the I-League runners-up coach.
Blasters coach David James was thoroughly disappointed after losing a game which they dominated. The former Liverpool goalkeeper said, "It's fair to say that our performance till 70 minutes was fantastic. I would like to see the disallowed goal again. I am not sure if it was offside.
"The injuries were a big factor. Sandesh Jhingan was obviously playing very well but he had to come off. Regarding the penalty, I am not sure what constitutes handball anymore. But these things happen in football. When the team is playing well and we end up losing the game through no fault of your own its tough to take. It's a thoroughly disappointing way to go out of the tournament."
James further mentioned, "We trained properly for this and turned up here four days ago thinking we are going to win this. We trained properly; the performance was good until 70 minutes till they scored we played possibly the best football. I wished this was pre-season. The way the lads trained was fantastic. Cups are funny things."
The gaffer mentioned that they are now focusing on the next season and will look forward to improving the squad for better results. He said, "It's tough to say goodbye to some players now. We are sad because we wanted to play another game. Now the focus has to be on improvement of the squad for next season. We were using the Super Cup to have a look at the players. The I-League has got some very talented players as well as the ISL."