Barcelona
'Suarez is not a biter any more, he's a diver' - Cantona reflects on Barcelona-PSG 'football porn'
Eric Cantona has branded Luis Suarez "a diver", but saluted the efforts of Barcelona in a Champions League clash with Paris Saint-Germain which resembled "football porn".
The Uruguayan frontman played a prominent role for Barca in one of the most astonishing comebacks in football history.
Five teenage stars to watch at Barca
Trailing 4-0 from the first leg of their last-16 encounter, Luis Enrique's side stormed back at Camp Nou to prevail 6-1 on the night and 6-5 on aggregate.
Suarez opened the scoring and won a late penalty in that contest, although his theatrics inside the box have drawn criticism from Manchester United legend Cantona.
He told Eurosport in his self-appointed role as the Commissioner of Football: "Suarez is not a biter any more, he's a diver. Not a very good one, way too dramatic.
Cruyff's legacy must not be forgotten
"Such blatant cheating with this hand on the throat, look of agony, bullshit!
"This is football porn. Kids should not be allowed to watch."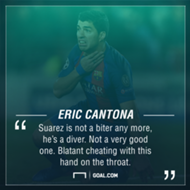 While he was no too enamoured with Suarez's exploits against PSG, Cantona was impressed by Barca as a collective, with Neymar in particular proving to be a shining light for the La Liga giants.
He added: "For some, it was a miracle on grass.
Neymar: PSG comeback meant the most
"For others it was the heist of the century. Either way, it was epic.
"There were only 12 people on the field who actually believed in the possibility of Barca qualifying: Neymar...and the 11 players of Paris."
Barcelona's reward for edging out PSG is a quarter-final showdown with Italian champions Juventus, with the two-legged contest set to pitch the 2015 finalists into direct competition once again.