WC Qualification Africa
Stuart Baxter on what cost Bafana Bafana against Cape Verde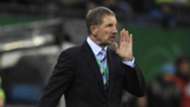 Bafana Bafana coach Stuart Baxter is very disappointed after they failed to make up ground in their 2018 World Cup qualifying campaign on Tuesday, going down 2-1 to Cape Verde in Durban.
"I'm massively disappointed, and the players are massively disappointed because we now have to rely on other results. We don't have it in our hands anymore," Baxter told the media.
A stunning second half brace from Gerry Rodrigues was enough to see off the highly-rated Bafana despite a late reply from Andile Jali.
The win furthermore revived the Blue Sharks' hopes as they went tied on six points with Burkina Faso following their back-to-back wins over Baxter's men.
The Bafana mentor is more disappointed as they didn't maintain their composure after the break. 
"I don't know from my position it looked like a soft free-kick. It looked like the guy threw himself to the ground. It was disappointing to come from half-time to go a goal down. It forced us to change the game from the bench," Baxter said.
As with many of his predecessors, the Englishman lamented their missed chances though many of them were half-hearted attempts than guilt-edge chances.
"When we went two goals down, we had to throw all our attacking options on. I think if we got the goal earlier, we would have probably ended up drawing the game, but the lads showed great heart. I think the lack of taking our chances and not being aware of their counter-attacks cost us, it didn't work," Baxter said.