South Africa
Stuart Baxter: I will resign if Bafana Bafana fail to qualify for 2019 Afcon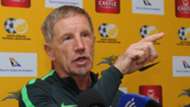 South Africa head coach Stuart Baxter says he will resign if Bafana Bafana fail to qualify for the 2019 African Nations Cup finals.
Bafana will face Libya in their last Afcon qualifier next month knowing that they need just a draw to advance to the finals which will be hosted by Egypt between June and July.
Baxter revealed that in his first stint as the Bafana coach, he left without money to release him from his contract with the South African Football Association (Safa).
"We all have to be happy with it, not only the FA we may win and everybody goes bananas," Baxter said on The Citizen.
"We beat them 3-0 but then in my heart of hearts I know that I can't do it anymore so then why stay," he continued.
"But the other way round we don't get the result that we want, but we see that we are on the right path and I'm convinced then I will say look I will stay if you want," he added
Bafana and Libya are placed second, and third respectively on the Group E standings with group leaders Nigeria having already booked their place in the finals.
"So, all things are equal there but of course, if we don't qualify I will put my hat there and say listen if you want me to go I will go," he explained.
"Also' if I can't do the job here' if I think that we are not moving forward in the pace we want because of certain things and I just can't do it' I will also walk. Even if they want me to stay," he concluded.
The English tactician's contract with Safa runs until the end of the 2022 Fifa World Cup in Qatar.
Bafana are hoping to qualify for Africa's biggest tournament for the first time since 2015.