Paulo Dybala
Striking Paulo Dybala mask made out of adidas' Copa 19 unveiled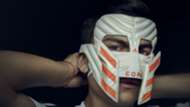 It's one of the most iconic celebrations in football right now and Paulo Dybala's unmistakable mask celebration has been given one mighty upgrade.
Working alongside adidas and Beijing-based artist-designer Zhijun Wang, Dybala has turned his signature celebration into an actual mask.
The striking piece of head wear is made from adidas' Copa 19 boot and further cements the significance of Dybala's celebration.
"It's not just a goal celebration, it has a message," Dybala said. 
"To always keep moving forward, whatever happens. In order to fight, you have to wear a mask – like gladiators do."
Playing alongside Cristiano Ronaldo this season, Dybala has scored six times across the Serie A and UEFA Champions League this season giving him more than a few chances to pull out his iconic celebration.
A Dybala documentary called "Behind The Mask" will be released by adidas on December 6 as we get a sneak peek at the player lurking beneath the gladiator facade.