Manchester City
'Stones is a class defender' - Man City centre-half backed by Oasis star Gallagher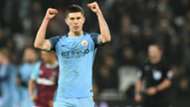 John Stones has come in for his fair share of criticism this season, but Noel Gallagher considers the Manchester City defender to be "class".
The England international arrived at the Etihad Stadium in the summer of 2016 in a big-money move from Everton.
'Pep videos bore Man City squad'
A £47.5 million fee was required to secure his signature, with City eager to buy into Stones' present ability and potential for the future.
Such a hefty price tag has weighed heavy at times, with the 22-year-old still working on ironing out the flaws within his game.
He continues to be questioned for an over-emphasis on playing his way out of trouble, but former Oasis star Gallagher believes a ball-playing centre-half fits perfectly into Pep Guardiola's grand plan.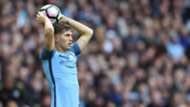 He told City's official website: "The style we play is amazing, it's brilliant. Stones is a class defender and I love him.
"Most of the jigsaw pieces are in place now and Pep's just got to tinker with it.
"It might take a couple of windows but he'll get it right.
Bravo: Future reports are false
"I think we're really close to being a great team. If you look at the Liverpool game and Monaco before that, we take the chances we create, we're sailing through and we're still up there.
"But it's small margins, innit? I think next season's gonna be vastly different.
"We played brilliantly against Liverpool and could and should have won it – and there's flashes of brilliance.
"Once he gets another couple of transfer windows I think we'll be alright. I'm excited about next season, for sure."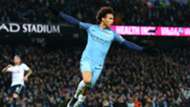 Gallagher has also talked up the performances of Leroy Sane, another of City's summer signings from 2016 and a man who is helping to lead the club towards a bright future.
He added: "Sane's brilliant. It's all going in the right direction He's come in first six or seven games and we were all wondering whether he was cut out for this and Guardiola was saying give him time and he's one of the best now.
City star Sane chills with Beckham
"He looks like a bargain.
"It's been a good start for Guardiola because we can still win the FA Cup and things are going in the right direction.
"We're not doing great but we're not doing bad."