Premier League
Steve McManaman Exclusive: 'Zinedine Zidane has done an incredible job at Real Madrid'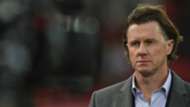 Steve McManaman, the former Real Madrid and Liverpool midfielder, has singled out Adam Lallana as a player he and, as per his observations, the fans of the famous five-time European championship winning club really like. 
The Englishman was in India and spoke exclusively to Goal, on the sidelines of  the launch of the Standard Chartered Trophy, on a host of matters ranging from  the talent in the British Isles to Zinedine Zidane's tenure at his former club in the capital of Spain. He also believes that Jurgen Klopp should stick the age-old formula he knows best how to implement from his Dortmund days - unearthing precocious, affordable talent and enhancing their reputation.
The 'Standard Chartered Trophy - Road to Anfield 2017' is an international 5-a-side football tournament which will take place in Mumbai this month.
Goal - The most promising talent currently, in your opinion?
Steve McManaman - I can't speak for a lot of players in the academies or across the countries. But Liverpool have certainly got a number of younger players who are doing very well- Ben Woodburn, Trent Alexander-Arnold- they are doing very well. I think the best young player, currently in England, is probably somebody like Dele Alli who is playing really very well for Tottenham (Hotspur). He's a fantastic prospect and a really good player. Harry Kane is doing incredibly well, too. He is doing really well at a young age-he's just 23! Raheem Sterling is doing very well. I speak as an Englishman who follows England National team-I'd like them to improve and get better experienced and do big things for the national team.
G - One player from Liverpool's current squad who impresses you the most?
SM - Currently, I think I really like Adam Lallana.  I think, visually, he looks fitter. He runs more than anybody, you can see that on the pitch and the fans really respond to that.
G - Who should Liverpool target in the transfer window?
SM - The answer to this is- I don't know! You can talk about players like Eden Hazard- you can talk about really good players but they are vastly out of Liverpool's budget. And, if anything, then Liverpool should be looking for players who are good investments, the players you can buy at good value, and hopefully you can improve them. There are some really good players in France. But I think, you need to be finding players you don't really know about, that makes sense. Jurgen Klopp is very good at that- he did so at Dortmund. He's brought in players at Liverpool whom we didn't really know the likes of (Ragnar) Klavan, (Loris) Karius and lesser known players but they have been a big success. They are the type of players, Klopp and the staff will be trying to target.
G - Thoughts on Zidane as a coach?
SM - As a coach, currently, he (Zidane) has done an incredible job. He took over (the managerial position) from Rafa Benitez in last January. Real Madrid were going through a difficult period. He very, very nearly won the league which would have been an incredible thing to do after being so many points behind (FC) Barcelona. You won the Champions League, he broke a lot of records for being undefeated. So, I think he's doing a great job, I am really pleased for him.