Transfers
Steve Komphela says Kaizer Chiefs have gone through a list of 20 potential strikers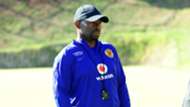 Kaizer Chiefs coach Steve Komphela has revealed that they have been working around the clock to find a quality striker that will score goals on a regular basis.
However, the 50-year-old said out of the 20 strikers they had targeted, some of them opted to move to Europe.
"We are looking for a striker. We have two [available] spots. We've gone through a list of 20 [strikers], but one went to Greece, others to Turkey and Sweden," Komphela told the media. 
Komphela went on to dismiss suggestions that Amakhosi have not been able to find the ideal striker because they don't want to spend money, but he emphasized the importance of making the right decisions when the players are available in the market.   
Chiefs recently released Nigerian forward Okiki Afolabi as as well former Boca Juniors striker Jonathan Philippe after they failed to impress the technical team. 
"It's not out of lack of our unwillingness to get these strikers. We are searching, but we want to make the right decision," he explained.
"The coach has the responsibility to take the right decision for the club in the long term because you don't want to waste money. Look at Paez, he could miss, he could do whatever but the quality he possesses we all see and he's been accepted," added the Amakhosi mentor.
"The other thing is acceptance in whatever you do. No matter how good you do it, it's about the next person accepting it," he said. 
Komphela also weighed in on calls for him to step down, but he refused to hit back at the club fans who want him gone. 
"There's one thing you cannot do - you don't bite the hand that feeds you. You've got to show the fans respect. With regards to my diplomacy over the last three years, I have always been diplomatic, but it's not diplomacy, it's respect. If you have respect, you will never say things that are reckless," he continued. 
"In politics they call it diplomacy. When you're going to talk ill about another country or another politician in a manner that's respectable, that's diplomacy. When you twist the hand of a President to agree with you, that's diplomacy. Power, soft power. Diplomacy equals soft power," added Komphela.