Kaizer Chiefs
Steve Komphela opens up about what angered him after the Kaizer Chiefs v Bidvest Wits match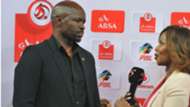 Kaizer Chiefs head coach Steve Komphela has confirmed that the Bidvest Wits staff member who made him angry on Saturday night was definitely Gavin Hunt.
The 50-year-old felt disrespected after being confronted by one of the Wits staff members after their 1-1 draw at the FNB Stadium. 
He said the same individual did the same thing in the final match of the campaign last season as Wits were about to be presented with their PSL trophy, but he decided to keep quiet at the time.     
"Gavin is a very close friend of mine. Nothing happens between coaches' but there's just people around the game who just destroy things. Just after the match' walking through the referees' it's our responsibility as coaches' whether you lost or won or drew' to shake hands and greet," Komphela told reporters.
"I was trying to greet the referees' then there was an uproar that' 'Ja' you Steve this and that', but it's not for the first time," he added. 
"I have submitted a report to the coach [Hunt] here' detailing him about the individual. And I requested the coach to address the individual, because it would be highly disrespectful of me to confront one of their staff members when he (Hunt) is here," said Komphela. 
"Even last season' when Wits came here for the final match' when they were here to collect the trophy after a lot of hard work' I got the same remark from the same individual, and I don't think it is fair on me because' listen' I never hurt anybody. I'm highly respecting, and when somebody does not have respect' I don't think that I need their disrespect," concluded Komphela. 
Hunt tried to calm the situation by referring to Komphela as a 'honey badger' which somewhat eased the tension in the press conference room. 
"You know what you are Steve? You're a honey badger. Now, I want you to go home and Google it," Hunt said. 
"When an animal get's attacked' he lies half-conscious' but then he comes back," concluded the Wits mentor.