Chelsea
Tottenham all but condemn Chelsea to the hell of the Europa League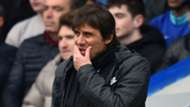 This is the kind of match they have in mind when they speak about six-pointers. Win and get within two points. Lose and fall back to eight. Chelsea were effectively playing for their Champions League lives at Stamford Bridge on Sunday.
Make no mistake this has been an abject season for them from the very start up to now. To lose to Tottenham Hotspur at home for the first time in the Premier League era just about caps it off.
Chelsea fans took such relish two seasons ago when ending Spurs's title hopes here at Stamford Bridge. Well this, then, was payback. And to have done it from a goal down demonstrated a resoluteness many thought was absent in Mauricio Pochettino's team.
Before today they had won only one of 11 matches in the top flight this term when falling behind. It says plenty about their guts but also Chelsea's deficiencies that they were able to get it done again here to record their first ever Premier League win at Stamford Bridge. 
Chelsea may have led 1-0 but it would take a very myopic supporter to claim they were the better team at any stage of proceedings. Antonio Conte was content to have his men sit in and defend with as many as 10 behind the ball. Spurs were therefore unable to find any gaps to exploit.
Having gone one-up courtesy of Alvaro Morata, Chelsea's task was clear. There was discipline in the defending, both individually and as a team. The only thing they would have to worry about were shots from distance when Spurs ran out of ideas.
Christian Eriksen had hit a couple of sighters before unloading another just before half-time. And just like that, his dipper found the vulnerability in the Chelsea armour.
Willy Caballero got into the Argentina team via an injury to the first-choice goalkeeper last week and conceded five times against Spain. Here he was deputising for Thibaut Courtois and looked startled when he caught sight of Eriksen's shot coming his way.
The game turned and Spurs seized on Chelsea's hesitancy.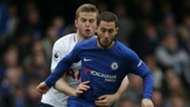 Maybe N'Golo Kante could have closed the playmaker down quicker to avoid the shot at goal. The French midfielder could be forgiven for that misjudgement given Erik Lamela was loitering nearby, but for the crucial second goal Morata simply did not get close enough to stop Eric Dier from finding his great friend Dele Alli with a long, raking through ball.
Don't let that detail detract from what was a world class goal. Dier's pass was on the money and Alli's speed of execution and accuracy of finish were both stupendous. It was a glorious moment for a young player dealing with scorn from the stands and with the disappointment of losing his place in the England team; a reminder if needed that while he may be enduring a difficult season the talent still remains.
Eriksen was similarly brilliant in finding Son Heung-min, who ran to set up Alli's second in three minutes and quench the game as a contest. Where Spurs could find no space on the outside in the first half, they found it crucially for the third goal when Marcos Alonso was found wanting. Chelsea made a mess of defending the ball in the box with Andreas Christensen and Caballero again fluffing and failing to clear.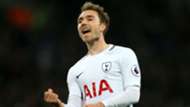 By that stage though Chelsea's plan had unravelled. It's been that kind of season. Mis-steps in the summer transfer market – and in January for that matter – have left the champions with a lack of depth. That was summed up when youth product Callum Hudson-Odoi was summoned from the bench to replace Morata with three minutes to go. Chelsea neglected to improve in quality with only Antonio Rudiger among the new faces this season coming close to acquitting himself.
So back Chelsea go to the Europa League. It is Hades for top teams. Arsenal and Manchester United both discovered that in recent seasons. With Liverpool and Tottenham having improved so much in recent seasons there is simply no way for contending teams in the top six to be allowed to stumble and stutter into the Champions League like in seasons gone by.
The stakes are too high and the price of failure spelt in a season of Thursday – Sunday fixtures. Chelsea will find out all about that next season, whether Conte is here or not.