World Cup
Spain hero Costa denies stamping on Iran goalkeeper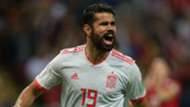 Diego Costa has denied stamping on Iran goalkeeper Alireza Beiranvand after helping his side take a surprisingly hard-fought victory over the middle eastern nation on Wednesday . 
Having scored twice in the 3-3 draw against Portugal, the Atletico Madrid forward was on target again with a fortuitous effort that rebounded off his knee and into the net. 
It proved the only goal of an entertaining match, although Iran saw one attempt chalked off for offside with help of the VAR. 
Costa had clashed earlier with Beiranvand in a meeting that ended with the goalkeeper on the floor claiming a stamp from the physical forward - a charge that he denies. 
"I was very calm because there are a lot of cameras and I had the reassurance of knowing I had not done anything," he explained to reporters after the final whistle. 
Costa was also in no mood to answer claims that he was a provocateur, hitting back at journalists when asked about his antics on the pitch. 
"What game were you watching?" he shot back. "It was during the first half, they were provoking us. It was us on the ground all the time. Watch the game properly, don't just say things because its your national team."
The former Chelsea man also admitted that he had a helping hand from Lady Luck to score what would be the game's crucial goal. 
"I was a bit lucky in the goal, but I am happy because it had been a very hard-fought game and [Iran] were all behind the ball," he added. 
"The key was to win. They were all pushed back and we knew we had to have patience and wait for the right time to score. 
"We played a great game against Portugal and today the opponent was a lot more defensive. They took a while to get into the game. But the most important thing was to win and keep moving forward." 
Spain close out their Group B campaign on Monday against already eliminated Morocco. 
Currently tied on points and goal difference with fellow leaders Portugal, the Roja know they will have to better Ronaldo's men's result to take top spot, as the Selecao play simultaneously against Iran.