Transfers
Sources: Nick Rimando set to rejoin Real Salt Lake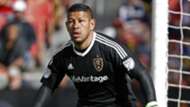 Nick Rimando had several options to choose from when he hit MLS free agency, but the record-setting goalkeeper ultimately decided to stay with the team he has spent more than a decade playing for.
Rimando has agreed to a new contract with Real Salt Lake, bypassing the opportunity to leave as a free agent after having had discussions with Los Angeles FC and the LA Galaxy, sources confirmed to Goal on Monday. The former U.S. national team goalkeeper is expected to complete his new deal this week.
The 38-year-old had been expected to make a move this winter as a top free agent goalkeeper, but he will now rejoin an RSL side looking to make a return to the playoffs after falling just short of the postseason in 2017.
RSL enjoyed a strong run in the second half of 2017 under coach Mike Petke, riding a youth movement led by standouts such as Albert Rusnak, Jefferson Savarino and Justen Glad. It was believed that Rimando and midfielder Kyle Beckerman might leave via free agency this winter, but now it appears the veterans are going to return to RSL.
Rimando is one of four remaining holdovers from Real Salt Lake's MLS Cup-winning team in 2009, along with Beckerman, Tony Beltran and Yura Movsisyan.