Malaysia Cup
'Some teams purposely don't do their best in the cup' - Maniam lauds Malaysia Cup timing reversal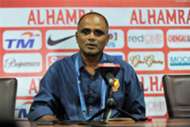 ---
BY        ZULHILMI ZAINAL       Follow on Twitter
---
Selangor head coach Maniam Pachaiappan has praised the recent decision by M-League organiser Football Malaysia LLP (FMLLP) to hold the leagues and the Malaysia Cup in separate periods of the season beginning in 2018.
The Malaysian domestic football calendar had previously been run in such a manner, but beginning the 2016 season it was decided that the cup would kick off concurrently with the second round of the leagues. This decision had been made to ensure that teams that do not qualify for the cup would still get to play throughout the full length of the football season.
But earlier this week, in a pre-season meeting between FMLLP and Malaysian clubs, it was revealed that the 2018 season would revert to its pre-2016 scheduling, as the gaps between the league matches had become too wide and affected fans' interest in the league campaign. To ensure that all 24 Super League and Premier League teams get to play throughout the whole season and have sufficient competitive matches, FMLLP plans to organise another competition, the Challenge Cup, which will be contested primarily by teams that do not qualify for the Malaysia Cup. The newly-planned competition will be held within the same period as the more-prestigious Malaysia Cup.
When met by Goal on Thursday, Maniam said that the reversal will allow clubs to concentrate on one competition at a time, and will also benefit the Red Giants in their push to do better in the league this season.
"Now we don't have to juggle between the league and the Malaysia Cup. It'll be more organised this way.
"In 2017 we did well to finish in six, but next season we must do better," said the former AirAsia FC head coach.
Amazingly, he also claimed that in the previous two seasons, there were teams which purposely did not do their best in the matches, as they only had resources to do well in one competition.
"You could tell that some teams, especially in the 2017 season, did not give their 100 per cent, or they did not field their best line-up.
"This happened because they only focussed on one competition; either the league or the Malaysia Cup. They'd only go all out when they think they can go far in the competitions," revealed the 49-year old trainer.