Australia
Socceroos pen emotional thank-you letters ahead of World Cup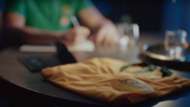 Behind every footballer is a mum that drove the car to practice, a dad that fetched the ball after every miskick, a coach that pushed them and a role model that kept them pushing.
These are the people that often get forgotten once the whistle blows, but ahead of the Socceroos World Cup campaign, a number of players have penned thank-you letters to those that inspired them most.
Australia face a huge test in Russia with matches against France, Denmark and Peru looming, but that means nothing for the players that have worked their wholes lives for a chance of representing their nation at a World Cup.
In one of the better pieces of football-related advertising you'll see in Australia, Hyundai have allowed Josh Risdon, Mark Milligan, Robbie Kruse and Andrew Nabbout to pour their hearts out over a pad and pen.
From a teary Kenny Lowe and a departed grandfather to a near-speechless Archie Thompson, the results of these letters are worth watching and serve as a timely reminder of the human element that lies behind the beautiful game.
Check out the videos below.