Iceland
Singapore can take lessons from inspirational Iceland when it comes to punching above one's weight in football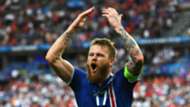 Iceland's remarkable feat of reaching the World Cup is truly an inspiration. The Icelandic heroes hail from a country with a population (335,000) that only just beats Bedok (290,000). They are easily the smallest nation to qualify, trumping the previous record holders Trinidad & Tobago in 2006 (1.3 million).  It is truly a story for the hopeless romantics and proves that their quarter-final run in Euro 2016 was by no means a fluke.
Euro 2016 saw them pull off a remarkable victory by defeating mighty England while earning them fame in the process. But their journey to the top hasn't always been smooth especially with an unfriendly climate. In the bleakest of winters, Iceland experiences only four to five hours of effective daylight a day. Their football seasons really are seasonal, in a brutal, literal sense.
Yet instead of accepting defeat and continue living in the ice age, they found a way to counter their limitations. In the 2000s, they managed to build seven full-size indoor pitches complimented over 20 artificial, all-weather outdoor pitches.  Their doggedness to succeed meant that just about every school in Iceland has an artificial football pitch, almost 130 in total, and they're open to anyone.
Talk about initiative and Iceland has that in abundance; something Singapore can take notes from. Iceland's bond with the fans is also another talking point. At Euro 2016, the "Tolfan" supporters' group won the hearts and minds of indifferent Parisians with their effervescent displays. Their mesmeric thunder-clapping terrified and traumatised the English and woke up a snoozing tournament. Singapore fans are no doubt begging for this kind of bond with the national team but for that to happen, concrete steps must be taken to improve the state of football in the country.
On the other hand, Iceland is truly aware that they are underdogs at the World Cup but there is no doubt their pragmatic qualities will come to the fore just as they were when they were charting their path to success. And it is this pragmatic quality that Singapore needs to learn from instead of coming up with excuses like an intemperate climate, lack of sporting structure or even finite space. Singapore's footballing fans are acutely aware of the potential that the little red dot has in the sport. The trouble is whether those in the higher authorities are able to see it. Let's just hope they are paying attention to Iceland at the World Cup because then they might learn something.