Arjen Robben
Should Bayern give declining Robben a new contract?
"Arjen is a perfect example of how an older player can still learn and develop, and refuse to be satisfied with what he's already achieved. He's world class. I can only encourage every young player to watch and learn from him."
This is how Matthias Sammer described Bayern Munich winger Arjen Robben - in 2014. The Dutchman was seen as an 'older player' back then, so must be seen as approaching geriatric status now, having turned 34 in January.
Robben is one of the veterans of the world game, still regularly lining out for a Champions League contender well into his 30s, but has come to possibly the last crossroads of a much-celebrated career.
Well-versed in switching countries and used to ruminating over his future, having previously switched to European giants Chelsea and Real Madrid before ending up in Munich, Robben is currently deliberating on his next move. But the decision may not be fully in his control.
Bayern Munich have not yet decided whether to extend his stay at the Allianz Arena, with a decision on Robben's renewal not expected until April or May. Firstly, the Bavarian side must deal with the uncertainty regarding their head coach for next season, as Bayern begin building the long-term future of the club.
Will the new coach even want Robben considering his decline this season? He expressed his frustration at being left out of the starting XI for the Champions League last 16 first leg with Besiktas, telling reporters in the mixed zone that he could not understand Jupp Heynckes' decision not to start him.
"I don't know why. I was very surprised," Robben said. "I won't say any more than that. Any word would be one too many. If I express my feelings now, I'll be in Mr [Karl-Heinz] Rumenigge's office tomorrow and then, I don't know what'll happen.
"I'm 34 years old and I work every day for these games. When you're not in them, that's a painful story."
Robben really should not be surprised by the fact he is no longer a guaranteed starter. His performances have paled in comparison to previous campaigns, where he was a crucial part of six Bundesliga championship wins.
He is probably on pace to play around the same amount of minutes in the league as last season, but his goal tally has severely dropped from 13 in 2016-17 to just four in the current campaign. Similarly, he has contributed five assists compared to nine last year, while his dribbling success rate stands at 31.6 per cent - his lowest ever in nine seasons in Munich.
It is not surprising that Kingsley Coman has been afforded multiple opportunities to impress while Thomas Muller has done excellently shifted out to the right with James Rodriguez playing through the middle. Robben will also miss the second leg against Besiktas due to a trapped nerve, meaning he will once again sit out an important fixture.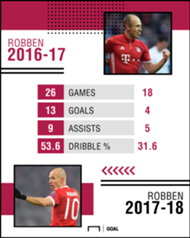 Bayern Munich have also been strongly linked with numerous Robben replacements, the most likely of which is Bordeaux's Malcom, who the Ligue 1 side's former boss Willy Sagnol believes could be a like-for-like replacement.
"I discovered Malcom and brought him over from Brazil to Bordeaux in January 2016," Sagnol told Bild.
"He is more like Robben as a player than [Franck] Ribery. He is not that quick but has great technique. I received some flak in France because I had paid €5 million for an 18-year-old, but looking at it today, it's a real bargain, and he has far from reached the end of his development as a player."
Despite Robben's decline, Bayern Munich should not be hasty in their decision to let him leave the club. He is still a huge influence off the pitch and is greatly respected by the rest of the players in the squad. He was one of the players who was most influential in the board's decision to jettison Carlo Ancelotti after a poor start to the season.
But even more than his value in the dressing room, Robben can still be impactful as a rotation option, and is the ideal tutor for Malcom or a similar player to learn from as Bayern transition into a new team for the 2020s.
Robben has done it all already: a Champions League winner whose trophy cabinet also includes La Liga and Premier League titles, so does not need a final hurrah to show his worth. Former Netherlands international team-mate Frank de Boer summed it up perfectly in an interview with Bild in February: "He doesn't have to prove anything to anyone any more."
But more importanly, de Boer also offered another piece of advice that both the player and the club would be wise to heed: "He should end his career with Bayern."
He may not be at his peak any more, but 34-year-old Arjen Robben still has a lot to offer.