African All Stars
Shola Ameobi reveals how Newcastle United can get the best out of Salomon Rondon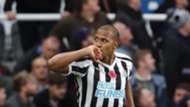 Newcastle United legend Shola Ameobi has advised the club on how to get the best out of striker Salomon Rondon.
The Venezuela attacker, on a season-long loan from the West Bromwich Albion, has led the Magpies' attack in eight league matches this season, scoring twice.
Rondon - who was on target in his side's 3-1 League Cup defeat to Nottingham Forest in August - opened his league account with a brace that gave Newcastle United a 2-1 victory over Bournemouth on November 10 and featured in their win away at Burnley on Monday evening.
And Ameobi has advised manager Rafa Benitez on how they can maximize the forward's qualities.
"For Newcastle to get the best out of Salomon Rondon, they need to do what they did very well in the last game - get the ball in the box, give him something to attack," Ameobi told Premier League.
"If they can do that enough times, he will get enough chances to score goals.
"Clearly his strength is his aerial prowess. If you look at the goal he scored in the last home game, it was just a top-quality finish with his head.
"There's his hold-up play, too. He's a strong guy and it's something he can do very comfortably for Newcastle."
During his 14-year stay at Newcastle, Ameobi played as a centre-forward and scored 79 goals in 397 appearances across all competitions.
But the 37-year-old admitted that the Magpies are yet to find the right successor to Alan Shearer who is the all-time Premier League top scorer with 260 goals in 441 appearances.
"Newcastle have had a storied history of great No. 9s. Since Alan Shearer retired, there hasn't really been one that has taken on that mantle," he continued.
"The longer it goes on I think that pressure will continue to build until someone takes it really by the scruff of the neck and does the sort of things he did.
"There is pressure. The Newcastle No 9 shirt especially is really special, not only to the players but to the fans and the storied history of the club."