Orlando Pirates
Senzo Meyiwa's Memorial Games marred by disputes over payment, but Orlando Pirates legends happy to play for free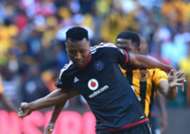 Former Orlando Pirates captain and goalkeeper Senzo Meyiwa's Memorial Games were reportedly marred by disputes over payment.
According to Sunday Sun, the recent exhibition match which was organised to honour the late shot-stopper as part of the games almost did not go ahead at the King Zwelithini Stadium.

This was after retired football legends, who were promised payment for playing allegedly refused to take to the field after being told they would not be remunerated.
It is said that Meyiwa's father, Sam, had to convince the legends to play despite the payment problem. 
The players reportedly insisted that they could not go on for free as they had cancelled prior commitments to take part in the football game in Durban. 
The founder and organizer of Senzo Meyiwa's Memorial Games, Ntokozo Sikhakhane confirmed that a fee of around R10 000 is usually paid for the footballers' appearances.
However, Durban municipality, who had initially agreed to fund the event reportedly pulled out from the event.
Legendary Pirates defender Lucky Lekgwathi, who played with Meyiwa at the Soweto giants, disclosed that he was not paid for taking part in the game.
"I'll speak for myself. I wasn't paid and I wasn't promised any payment. But it didn't worry me because this wasn't about money. I played to honour Senzo," he told the publication. 
Another former Bucs defender Siyabonga Sangweni stated that he was happy to play for free.
"Usually when legends are asked to come and play in games of this nature, they get a small amount of money. But with Senzo's games there was no problem," he said.
"Knowing Senzo as my homeboy, what happened didn't worry me because money wasn't a priority anyway. All I wanted to do was show support," Sangweni concluded.