Muhammad Amirul Ashraf
'Selangor young guns must prepare to take over starring roles' - Amirul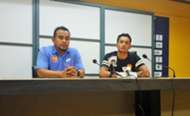 ---
BY        ZULHILMI ZAINAL       Follow on Twitter
---
Selangor have had to rely on their younger players extensively since the 2017 season due to budgetary restrictions, and although that has made for a rather disappointing league campaign, it has proven good enough to take them to the FA Cup final.
On Saturday, they tied PKNS FC 1-1 in their second leg FA Cup semi-final match, to come away with a 5-1 win on aggregate, and reach the final on July 7.
Goals in the PKNS vs Selangor match
The draw was also young right back Amirul Ashraf Ariffin's 10th competitive appearance for the Red Giants this season.
Speaking to the press after the match, the 20-year old defender spoke of his desire to claim a permanent starting spot in the Red Giants squad.
"This is my time, as a younger player, to claim a permanent spot in the first eleven, in a squad that has a long history.
"I need to gain more experience in order to be more consistent in my game," said Amirul.
Commenting on their cup run, the former Selangor youth player chalked their successful run so far down to the teamwork between the junior players and the more experienced squad members.
"There are no distinctions between the young and the senior players in the team. We've been working together and motivating each other everytime we are down.
"But we the younger guys must be more committed in supporting the experienced players. This is because in two or three years' time, we are going to succeed them," noted Amirul.