Kuala Lumpur v Selangor
Selangor capitalised on Kuala Lumpur's pressure, says Amri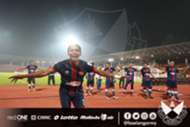 ---
BY        ZULHILMI ZAINAL       Follow on Twitter
---
Evergreen Selangor forward Amri Yahyah was the man of the match in their 3-0 first leg quarter-final FA Cup win over Klang Valley derby rivals Kuala Lumpur (KL), thanks to his three assists.
KL vs Selangor goals
But the 37-year old forward had a far bigger involvement in the clash that was held at KL home ground the Kuala Lumpur Football Stadium, Cheras on Saturday.
After the first goal led to KL goalkeeper Kamarul Effandi Abdul Rahim getting hurt and needing treatment before the match could be restarted, Amri called his teammates to celebrate in front of the match photographers situated behind the hosts' goalline, essentially facing the home team fans.
Not long after the second goal was scored, KL's Guilherme de Paula was sent off for reacting physically to a foul by midfielder Halim Zainal.
And when the halftime whistle was blown, Fabio remonstrated with match referee Suhaizi Shukri by placing his hand on Amri's neck, essentially asking that he keep an eye on the former Malaysia international's behaviour. Amri responded to Fabio's action by dramatically falling onto the pitch, and both benches rose to their feet to confront each other. As a result, Fabio was ordered to sit in the stands for the remainder of the match, and the match then took place without further handbags.
An altercation took place when KL and Selangor players were walking into the tunnel for HT just now, in their #KlangValleyDerby 1st leg QF #ShopeePialaFA match pic.twitter.com/kvj4rbMWbF

— Goal Malaysia (@Goal_MY) April 7, 2018
The halftime fracas between the two teams
After the match, Amri admitted that the Red Giants tried to capitalise on the hosts' pressure to win in front of their fans, by playing a physical game against their rivals.
"In the first 15 minutes we pressed them as instructed by the coach; who had told us to be aggressive in our pressing everytime they got the ball, and to be patient in attack.
"KL were playing in front of their own fans and needed the win, so we had to stay calm when they lost their cool. We managed to keep our temper in check while avoiding making mistakes and long balls, and it worked to our advantage," he explained.
But despite their comfortable lead in the tie, a win is not yet assured according to head coach Nazliazmi Nasir.
"Anything can happen in football. A 3-0 first leg win doesn't guarantee us an easy time in the second. KL will surely want to hit us back. But my men are in peak performance and prepared to do what it takes," noted the coach, who had recently been promoted to the full-time head coach post, after taking over on a caretaker basis earlier.