Opinion
Science of football: Using altitude as home ground advantage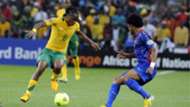 ---
SCIENCE OF FOOTBALL:    KHATIJA BAHDUR        
---
When we talk about home-ground advantage we look at the impact of fans, referees giving 'home-town' decisions and not finding the environment hostile.
But home-ground advantage should be used to give teams the maximum advantage.
The scope should not just be limited to fans but should extend to physiology and body functioning.
This is where environmental conditions play a big role.
Take a look at away players who have to play at 15:00 in Thoyandou in Summer, or Gauteng based players having to battle the winds of Port Elizabeth and Cape Town. Those conditions might not guarantee victory for home teams, but they do create a few more obstacles for the visitors.
And this leads me to the point of this article: Altitude.
AFRICAN ALL-STAR TEAM OF THE MONTH: SEPTEMBER
And this leads me to the point of this article: Altitude.
Prior to and during the FIFA World Cup in 2010, some teams expressed concern about the altitude and what impact it would have on their performance. When selecting their base camps, altitude was one of the factors many teams took into consideration.
So, is altitude one of the secret weapons that we as a country own, but underutilise when playing International matches?
Before we go into that, what is meant by altitude and how exactly does it impact performance?
Altitude refers to distance above sea-level.
As a country with most of our inland cities above sea-level. Some of them are high enough to have an impact on performance. 
The question is how exactly does it impact performance?
The air is thinner at altitude, meaning the oxygen pressure at altitude is less than at sea-level. This has a negative effect in endurance activities.
Football is an intermittent sport relying on quick short-duration high intensity actions, while also requiring players to perform for 90-120 minutes. 
While the impact of altitude is more pronounced in pure endurance activities like long-distance running, altitude can still impact intermittent sport performance.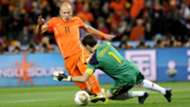 During the 2010 Fifa World Cup, Netherlands and Denmark blamed altitude in Johannesburg for sub-par performances.
Belgian sport scientist George Nassis, conducted a study looking at performances at the 2010 Fifa World Cup.
He concluded that although altitude did not affect technical skill performances, matches played at altitudes above 1200 m above sea-level had a negative impact on endurance of players.
The total distances covered by teams was on average 3.1% lower at stadiums above 1200m above sea-level.
Altitude also would have other impacts. Sprint times should increase at altitude and the air resistance against the ball is lower, impacting ball flight and speed.  
If altitude has these effects, surely it balances out between the two teams, right? Actually, no.
Training at altitude results in changes in the body to better deal with the altitude. Players would also be used to changes in things like ball flight, if they have been training under those conditions.
The altitude only negatively impacts players who have been training at lower heights.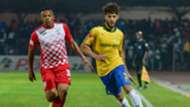 Within the context of the SA national football team, most of the players are playing for Gauteng based teams which means their bodies are better equipped for those conditions and this could be used to the advantage of the team.
A fixture like the recent double header against Cape Verde could have provided the perfect experiment.
The Cape Verde team would not have been able to prepare for a longer period at altitude to get used to the conditions because the game in Cape Verde was only a few days before.
This means that altitude could have been used to result in opposition players tiring early and the home team could have benefited.
All Blacks rugby player, Brodie Retallick, last year stated in an interview with stuff.co.nz that the team were happier to play in Durban because "it's pretty hard and it takes a few days to adjust" and "When we land in Jo'burg everyone feels the altitude, but -here at sea level- it's a good thing in terms of our bodies and getting over the recovery a bit quicker."
Playing at altitude can also provide a psychological edge.
Media outlets can highlight the impact of the altitude and this could subconsciously create an obstacle for opposition teams, who have never played in these cities before and who won't be able to accurately predict how the altitude could impact their performance.  
In South Africa, we are blessed to have altitudes high enough to have some impact on performance, but low enough to not be associated with the health risks and concerns that have faced some South American countries.
We have a possible weapon at our disposal and, hopefully, this weekend when Bafana Bafana take on Burkina Faso it can provide a little bit of an extra edge. 
Dr Khatija Bahdur is a sport scientist who has worked in football for the past 10 years