Singida United
Sanga: There is no intention to sell Kutinyu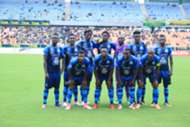 Festo Sanga has reiterated that Singida United have no intention of selling Tafadzwa Kutinyu this summer.
Singida United have revealed that they will not sell their midfielder Tafadzwa Kutinyu who is targeted by several Premier League rivals.
Yanga is one of the suiters with the club seeking to improve their squad ahead of their CAF Confederation Cup campaign where they are in the group stage.
Speaking to Goal, Singida United Director, Festo Sanga said that they have no intention to sell their key man during the transfer window because they need to build a strong team ahead of next season.
"We are in the process of building a competitive squad, so we have to keep our key men and Kutinyu is one of them," said Sanga.
Kutinyu has helped his team to reach the FA Cup final where they will play Mtibwa Sugar on June 2 and the winner will be guaranteed a chance to play in the CAF Confederation Cup next season.