Premier League
'The Stockport Iniesta' & the top five teenage stars to watch at Manchester City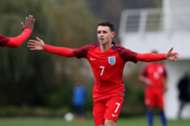 Manchester City's conveyor belt of talent is still rolling along, even if the brightest prospects are either finding it tough to break into the first team, or a couple of years from getting their opportunity.
Pep Guardiola took several youngsters on City's pre-season trip to China last summer, but although Tosin Adarabioyo, Aleix Garcia, Angelino, Pablo Maffeo and goalkeeper Angus Gunn were kept on as part of the first team squad as others were loaned out, there have been few opportunities for any of them.
Donnarumma crowned NxGn winner
Guardiola will take four or five players from the Under-18s side to the United States this summer, and there is hope that the younger talents are even better and will be able to make a big contribution in the years to come.
Goal takes a look at the hottest prospects and their chances of success.
---
JADON SANCHO
---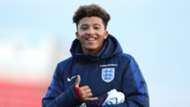 The 16-year-old winger has been making mincemeat of full-backs this season, despite the fact he's regularly playing against opposition many years older.
City's policy of playing 16 and 17-year-olds in the Under-18s league, and 18 and 19-year-olds in the U23 league, has proved to be no barrier to Sancho, who has also spent time training with the first team.
The flamboyant wide man, who plays off the left, takes great pleasure in beating his marker with an array of tricks and regularly racks up goals and assists whether he's playing for City's U18s, U23s or England's youth teams.
NxGn: The top 50 teenage talents
Last season it had been known for him to play a full match for the U16s before running across to where the U18s were playing - on the same patch of land, of course - and playing the final 20-30 minutes with his older colleagues.
Many tall and strong young players lose that advantage when thrown into senior football but Sancho is already showing what he can do against bigger, more mature opponents, and is one of the young talents earmarked to make an impact on Guardiola's squad in the coming years. 
---
BRAHIM DIAZ
---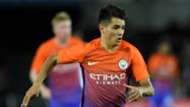 Brahim has long been regarded as the most promising of all of City's young players in a similar age bracket and he has already made his senior debut.
The 17-year-old playmaker was given 10 minutes at the end of City's EFL Cup win at Swansea in September but has since returned to the Elite Development Squad to continue to mature, although he has trained with the first team at times.
Donnarumma can be better than Buffon
He has often been used as a false No.9 in City's youth teams, though it does not seem to be his best position. When deployed behind a striker he is capable of rampaging through teams at speed, sending the opposition sprawling with perfectly timed deft touches.
His slight build could pose something of a barrier to his hopes of breaking into City's first team, though technically he is the standard bearer for the rest of the club's academy.
---
PHIL FODEN
---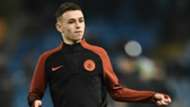 Rather beautifully dubbed 'the Stockport Iniesta' by one City fan, Foden is a local playmaker who has been catching the eye in City's youth teams in recent years - and especially in the last few months.
Guardiola even called Foden, 16, up to the senior squad for the final Champions League group game against Celtic, although he did not get off the bench.
Donnarumma's brother reveals all
He signed for the club at U9 level and is one of City's best hopes of bringing through a local talent right through the ranks and into the first team.
Foden is predominantly left footed and his ability to beat players, as well as an impressive range of passing, has even seen him steal the limelight from Brahim in certain matches this season.
When the two play alongside each other behind a striker, the opposition have rarely been able to live with them. 
---
TOSIN ADARABIOYO
---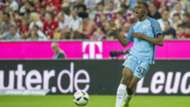 Adarabioyo is further along in his development than Sancho, Brahim and Foden, but although he is technically a first teamer at City, he has struggled to break into Guardiola's squad.
The Manchester-born centre-back is currently caught in the middle of a contract stand-off between his agents and the club, with his representatives holding out for a bumper pay day and the club loathe to be held to ransom.
City do not want to let one of their most promising young players leave, especially as he can go for free in the summer, but at the same time, he has been on the fringes of the senior side this season.
Mbappe can dominate like Messi & CR7
That has been despite the intermittent travails of Nicolas Otamendi, Aleksandar Kolarov, John Stones and Vincent Kompany, and it currently appears unlikely that the 19-year-old will spend next season at the Etihad Stadium, even if he does sign a new contract.
A loan deal could prove to be best for all parties and, should that happen, the potential club in question would benefit from an elegant centre-back eager to prove himself.
---
ALEIX GARCIA
---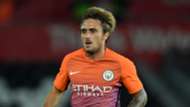 The Spanish central midfielder was said to have the best chance of breaking into Guardiola's team this season but after featuring in several squads in the opening months of the campaign he has found himself largely out of the picture recently. 
Having only arrived from Villarreal B at the start of last season, Garcia was promoted to Guardiola's ranks after impressing for City's youth teams in his first few months in England.
He scored his first senior goal in the EFL Cup win at Swansea City in September and was mentioned in the same breath as Yaya Toure when Guardiola discussed the difficulty of having to leave certain players out of his squad for the Champions League group stages.
Teen stars who failed to fullfil potential
But while Toure has admirably fought his way back into the first-team picture, that has meant fewer opportunities for Garcia.
Since coming off the bench late in City's 1-1 draw with Middlesbrough in November, the 19-year-old has had to make do with the odd appearance in the FA Cup - he played 22 minutes in the third round win at West Ham in January and started the fifth round replay at home to Huddersfield at the start of March.
Despite being heavily marked in the first half of the Huddersfield game, he showed his personality by going on to dictate the tempo of the game by constantly asking for the ball.
Like Adarabioyo, he could be sent out on loan for next season but any potential new employer would get a composed, deep-lying midfielder with a fine range of passing and the ability to play further forward if required.