Jorge Sampaoli
Sampaoli: Barcelona don't want me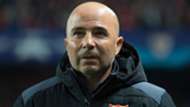 Jorge Sampaoli says he has no need to renew his contract at Sevilla and maintains he is not a target for Barcelona to replace Luis Enrique.
VIDEO: Kuyt's five-year-old son scores solo stunner
The Argentine replaced Unai Emery at the helm of the Spanish side ahead of this season and has guided them from last year's seventh-placed finish to third with 11 games left.
The coach's thrilling attacking style has seen him touted as a potential Barcelona coach, with reports increasing after current incumbent Luis Enrique announced he will leave at the end of the current campaign.
Sampaoli is contracted to Sevilla until the end of next season, but he sees no reason to sign a new deal yet, insisting there are no concerns over his future.
"I do not have to renew because I have a contract," he told reporters. "Nor is it real that Barcelona have taken an interest in me, they did not contact me."
Sevilla sporting director Monchi could leave the club at the end of the season after they prevented him from doing so last summer. Sampaoli maintains the highly-rated director's future will have no effect on his.
"I would like Monchi to stay, but it is not a condition for me to stay," he added. "According to the football project that has Sevilla, one is here to help or not, I feel useful, loved and respected."
After seeing his side eliminated from the Champions League at the hands of Leicester City in midweek, the former Chile boss admitted he was hurt but stressed his side will bounce back.
Chelsea stay cool to kill off title race
"After you fall down you must get back up and try again," he added. "It is important that you never get too down or get too high either.
"The Champions League loss was a painful defeat for us but I don't consider it a great failure.
"It did cause me great pain that even meant I wasn't able to sleep but as I said, life must go on.
"People will think that we are in a state of depression but it won't be like that. I am really enjoying my time at the club this season so it is only natural that any defeat we suffer hurts me."