World Cup
Sam Nyamweya calls for Fifa to take action against Kenyan referee Aden Marwa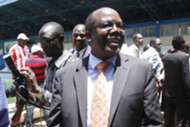 Sam Nyamweya has called on World governing body Fifa to issue a life ban on Kenyan referee Aden Marwa, who has been accused of taking bribe.
The former Football Kenya Federation boss says he has been gutted by the news that the celebrated referee had taken bribe to influence a match. "If indeed the allegations are true, Fifa should ban him for life," Nyamweya told Goal.
Assistant referee Marwa has been struck off the list of match officials for the 2018 Fifa World Cup in Russia, following a video that aired on BBC on Wednesday night showing the Kenyan official allegedly receiving Sh60, 000 as bribe from a Ghanaian undercover journalist Anas Aremeyaw Anas.
Marwa was among the 63 assistant referees set to officiate at the upcoming world football event in Russia.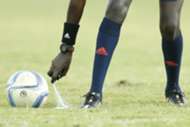 Nyamweya believes that the act by the referee brings to question officiating in the local league saying it was killing the sport in the country. "If someone can take a small bribe of Sh60, 000 away from home, it means even in the local league, he or she can take anything to fix a match.
"I wish Marwa came to me if he had a problem with money. I could have given him more than Sh60, 000. He has spoilt the name of Kenya and that is not acceptable. Fifa should take stern action."
Most African referees are featured in the film captured by undercover 'operatives' assigned by investigative journalist Anas Aremeyaw. Marwa flew the Kenyan flag high in the global scene when he officiated the 2014 World Cup in Brazil.
He was a little-known official back at his home in Kehancha before the Kenya Premier League sought his services, from which he rose to the rank of assistant referee. Fifa followed soon afterwards. He first officiated an international match at the Africa Cup meet in Zanzibar in 2000.
He has also starred in the Caf U-20 championships in Rwanda, the Chan tournament in Sudan in January 2011, and the U-17 World Cup in Mexico in July 2011.
Marwa also officiated the Caf U-23 championships in Morocco in 2022 before taking part in the Africa Cup of Nations in Equatorial Guinea and Gabon in 2012.