Manchester United
Is Pogba a Muslim? How tall is Ibrahimovic? Your Manchester United questions answered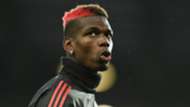 Manchester United's enormous popularity, at home and abroad, ensures that there are millions of Google searches for them every month.
But what are the questions they're asking the world's biggest search engine? Google Trends has given Goal access to their recent data among UK users and we've answered the questions for you.
---
PAUL POGBA QUESTIONS
---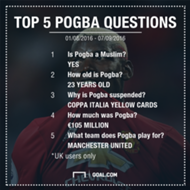 Interestingly, the question Google users in the UK are asking for than any other is regarding Paul Pogba's faith. Is he a Muslim? Yes, Pogba is a Muslim, like fellow Premier League stars Mesut Ozil and Marouane Fellaini.
Almost every Premier League follower was scratching their head about Pogba's initial ban upon signing for Man Utd, which was a result of two bookings he picked up in the Coppa Italia with Juventus last season.
Asking about his age (23) and cost (€105 million, a world record fee) aren't surprising either, although it is peculiar to note the confusion about who he plays for.
---
ZLATAN IBRAHIMOVIC QUESTIONS
---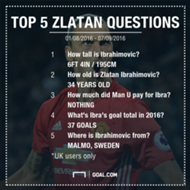 Zlatan Ibrahimovic's imposing height (6ft 4in) is the big Ibrahimovic query right now, closely followed by those curious how old he is (34, turning 35 in October).
After an impressive start to the season, scoring five goals in his opening five games for Man Utd, there were clearly a few people wondering how much he cost. The answer? Absolutely nothing! His contract at Paris Saint-Germain ended in June and he became a free agent.
Ibrahimovic's goal tally for 2016 is quite outstanding (38 goals - 33 for PSG, five for Man Utd) and many more people are aware the striker is from Malmo, Sweden.
---
WAYNE ROONEY QUESTIONS
---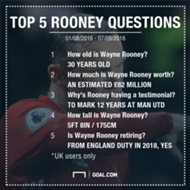 Wayne Rooney's age (30) is of more interest to Google's UK users than his height (5ft 8in), while his estimated £82m worth makes him the richest British sportsman aged 30 or under, according to the Guardian.
Asking why Rooney had a testimonial last month is perfectly legitimate as it's not as though he's retiring or expected to leave Man Utd imminently. The friendly match at Old Trafford was held to celebrate his 12 years at the club and raise money for charity.
The attacker is, however, retiring from England duty after the 2018 World Cup, having announced as much during the September international break.
---
MARCUS RASHFORD QUESTIONS
---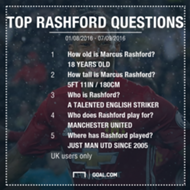 Like Rooney, it's Marcus Rashford's age (18) that is the big talking point among a UK populace that had scarcely heard of him 12 months ago, while the Englishman's height (5ft 11in) is interesting many Google users too.
The prominence of the question 'who is Rashford' suggests not everyone is clued in on Utd's biggest young breakout star since Adnan Januzaj, with thousands of people also wondering who he even plays for!
A local lad, Rashford's been on Man Utd's books since 2005 having grown up in the city of Manchester and plays up front for club and country.
---
MANCHESTER UNITED TOP 10 QUESTIONS
---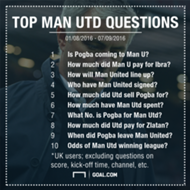 Once you strip away questions on scores, kick-off times and what channel their games are on, it was Pogba's transfer saga that led to the most prominent question among Google's UK users between August 1 and September 7.
How much Utd sold Pogba for (free), when Pogba left Old Trafford (2012) and Pogba's shirt number (No.6) mean the France midfielder dominates the Man Utd list of top 10 queries. Pogba, Ibrahimovic, Eric Bailly and Henrikh Mkhitaryan were United's four signings this summer, spending an estimated £143m on transfer fees.
Man Utd's line-up for 2015-16 appears to be Jose Mourinho's favoured 4-2-3-1 formation. Man Utd's starting XI vs Manchester City on Saturday: De Gea; Valencia, Bailly, Blind, Shaw; Fellaini, Pogba; Mkhitaryan, Rooney, Lingard; Ibrahimovic.
And, finally, the odds of Man Utd winning the league? Ahead of the Manchester derby, the Red Devils were 11/4 among most bookmakers - behind only Pep Guardiola's Man City in the favourites pecking order. After losing 2-1 at Old Trafford, United slipped to 4/1, well behind City's even odds.