African All Stars
Rohr making NPFL players look inferior, says Abiodun Obafemi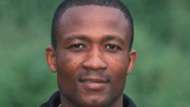 Former Nigeria international Abiodun Obafemi has queried the decision of Gernot Rohr to overlook the Nigeria Professional Football League players for this month's friendlies.
The German tactician invited 25 players for the Super Eagles' friendlies against Senegal and Burkina Faso in London , picking only a player from the country's domestic league.
The 1996 Olympic gold medalist believes the handler's action will make the home based players look inferior.
"If I have the chance to meet and advice Rohr, I will tell him to adopt Westerhof's style," Obafemi told Goal.
"I don't want a situation when you start to place status on the national team - this is home based and the professional. It is demeaning and brings some kind of inferiority complex to the team.
"He will begin to make them look inferior. Watching the Nigerian league so far, the standard is getting better and better. I believe the local players will rub shoulders with the foreign pros.
"I have seen a lot of fantastic players. Before now, I don't enjoy watching the Nigeria Professional Football league but recently my opinion is changing as regards to the quality of players in the local league.
"I think he should give them to the opportunity to play. If you don't use them, how will you know their quality? I want them to be treated the same as the foreign pros. Using CHAN tournament for home-based is not good enough for them."