Liverpool
'Robertson now worth at least £40m' - Lawrenson hails Liverpool full-back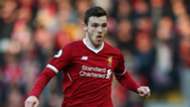 Former Liverpool defender Mark Lawrenson has praised Andy Robertson, claiming that the Reds full-back is now worth at least £40 million.
Robertson signed for the Reds for £8m from Hull City last summer and became Jurgen Klopp's first choice left-back in December. After a string of impressive performances, Mark Lawrenson believes that the 24-year-old has dramatically improved his overall value.
"What was it - £8.5m [initial £8m] or something [they paid for him]? He is probably times that by five at the moment," Lawrenson said to BBC Scotland. "I cannot remember a poor game from him."
Robertson had been criticised for his defensive performances during his time with Hull, but has developed that side of his game at Anfield, and is now set to show his qualities against Cristiano Ronaldo and Real Madrid in the Champions League final.
Lawrenson has been impressed with how the left-back has handled himself against Roma, Manchester City and other top teams in Europe and in the Premier League, ending doubts about his defensive ability.
"People in the game said to me, 'He is great going forward, but defensively against the top teams, I am not sure.' I tell you what, no-one has taken him apart as yet," the 60-year-old continued.
"The quality of his passing and crossing is outstanding. He is an extremely fit individual; he just looks like a player that doesn't give a problem to the manager and gets on with it.
Liverpool have struggled to find a good left-back since the departure of John Arne Riise in 2008, with Fabio Aurelio, Jose Enrique and Alberto Moreno playing in that spot in recent years but not really making a big impact for the Reds.
Robertson has now established himself as a key player at Liverpool and at just 24-years-old, some fans are tipping him to become a Liverpool legend. However, Mark Lawrenson is reserving his judgement on the Scottish international.
"He has got all the tools. We will probably have a better indication at the end of next season. I always judge a player over two years," the five-time First Division winner admitted.
"Sometimes they come in and have a great first season, and the second season is maybe not quite as good. That is when you really decide if they are going to be a great, or just a very, very good player. But very, very good at Liverpool is totally acceptable."