Premier League
Robert Pires - Gary Neville always used to kick me!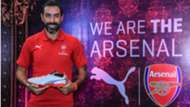 Former Arsenal winger Robert Pires has backed Arsene Wenger's charges to mount a serious challenge for the Premier League title despite the Gunners seemingly having fallen off the pace already. 
Arsenal are currently fifth in the table, with 16 points from nine games, and find themselves nine points behind Manchester City at the top. But damaging defeats to Liverpool and Watford recently have seen many write off Arsenal's chances of winning the league.
But Pires does not agree with the detractors and feels that the Gunners' summer transfer business was shrewd and will help them challenge for the honour they last won in 2004 when the Frenchman was an integral part of the team. 
"Yes, of course (Arsenal can challenge for the title) because Arsenal are a strong side, with a very good squad," he said to Goal on the sidelines of a Puma fans' 'meet-and-greet' event in Bengaluru recently. "They've spent money in the summer as well, bringing in the likes of Alexander Lacazette.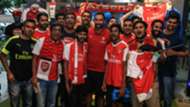 "It's is very important for Arsenal to be positive and confident. We are only in October, so the road is very long."
There has also been a lot of speculation on the futures of Mesut Ozil and Alexis Sanchez, both of whom are out of contract at the end of the season and are expected to leave Arsenal. However, Pires feels that Wenger and co. should put the issue to the back of their minds and focus on winning the Premier League and the Europa League. 
"(Alexis) Sanchez and (Mesut) Ozil are important. But the question is to find stability in the side. It's not my problem, but it is Arsenal's problem (their contract situation). I hope they are able to make them extend their contracts. 
"(But) the most important thing for the team and for Arsene Wenger is to remain focused on the Premier League and the Europa League."
Pires, who spent six trophy-laden seasons at Arsenal between 2000 and 2006, picked out former Manchester United right-back Gary Neville as the defender who gave him the toughest time on the pitch. 
"Gary Neville (was my toughest opponent). Maybe because of the rivalry between Arsenal and Manchester United. But any time we played, at Highbury or Old Trafford, he would kick me!
"But that's normal since he was a defender and I was a midfielder. It was always a good war between us."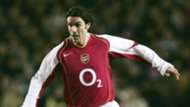 The 43-year-old World Cup winner went on to reminisce his time at Arsenal and emphasized the importance of winning trophies over scoring goals. "I have a lot of great memories from my time at Arsenal, but goals! I played nearly six seasons and scored about eighty-four goals. 
"It's very difficult to pick (the best goal in my career). For me, the goals were not important, but instead to lift some silverware at the end of the season. That is the objective for a footballer." 
The Frenchman went on to state that he had never considered any other professional career other than football during his formative years and the reason for his success was his staunch belief in his own dream. 
"I don't know (what I would have been if not a footballer) because when I used to play football, I was seven years old. I started playing with my dad, and football was my dream forever. Step by step, I learnt a lot. 
"I worked really hard, and finally when I was eighteen, I signed my first professional contract. So I never gave up on my dream."