Nigeria
Rivers Angels' Okon out for revenge against Nasarawa Amazons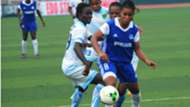 Rivers Angels coach Edwin Okon aims to avenge their 2017 Nigeria Women Premier League Super Four loss to Nasarawa Amazons as they meet for the Champions Shield at Agege Stadium.
The Jewel of Rivers bowed 1-0 to Christopher Danjuma's side at the four-team tournament in Benin City to miss out on the league diadem, eventually won by the Lafia based side.
But they went on to make up by edging past Ibom Angels 5-3 on penalties to clinch their record seventh Federation Cup title in 2017 at the Rwang Pam Stadium in Jos.
And the gaffer, who faces his former assistant with the Super Falcons, reflects over their working relations, but he insists winning remains his topmost priority on Sunday in Lagos.
"There is every good thing to a team in a season and likewise the bad side of it," Okon told Goal.
"As a coach, when you see the bad side of the job, you have to accept situation the way they come no matter how bad and forge ahead.
"You just have to let your wards know that two competitions are not the same. We had to forge ahead and we had to focus on making a difference in the Federation Cup.
"It was not totally a bad outing for us last season despite we lost the league title but we still had something to show for it [winning the Federation Cup].
"Going for the Federation Cup title was not about the prize money but the job comes first seeing that we had a poor out in the Super Four, we needed the result."
"I must say there are no rivals but a clash of queens to showcase Nigeria women's football beauty," he continued.
"It is also a way to show the true progress of the women's game in the country and how well our game has developed. I look forward to a great game and exciting contest.
"Personally, If we don't win, I will worry too much as I see the match as a pre-season friendly to assess my players with all teams just resuming their camping for the new season.
"I think the players too are not 100 percent fit too and will need time to blend, so this is an opportunity to test our strengths.
"I'm looking forward to the game and excited the gate will be thrown open to fans and this will afford many to see the beauty of women's game. Once beaten, twice shy. We don't want the repeat of Super Four loss to Nasarawa. For me, I believe in playing badly to win. I don't reckon with formation but having the materials to win is what matters."