Nigeria
Rivers Angels emerge as 2018 Women's Federation Cup champions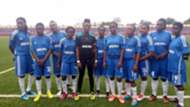 Rivers Angels emerged as the Women's Federation Cup champions for a record eighth time after defeating Ibom Angels 1-0 in the 2018 final at the Samson Siasia Stadium.
A second-half strike from Juliet Sunday was all the Port Harcourt side needed to earn a back-to-back final victory over Whyte Ogbonna's ladies and the title for the third straight year on Tuesday.
Prior to the final, both sides came into the contest with huge reputations, having not conceded a goal as well as enjoying an impressive six-match unbeaten run in this year's edition.
The holders made a good start to their title defence when Rofiat Sule blasted home Cecilia Nku's cross but her effort was overlooked after being caught in an offside position in the 16th minute.
In the 36th minute, Ibom found their moment of brilliance when Glory Edet's strike came off the woodwork for onrushing Emem Essien to latch home but the referee ruled out for offside.
The thrilling end-to-end performances in the opening stanza failed to produce a goal despite several attempts masterminded by Sule and Essien for Rivers and Ibom respectively.
Two minutes after the restart, Sunday fired past helpless Lucky Andy to help the seven-time winners find a breakthrough - in what eventually turned out the difference between both sides.
With an eighth title haul, Edwin Okon's side has pulled away from perennial champions Pelican Stars who boast of six titles.
For securing this year's title, Rivers Angels were rewarded with a cash prize of 10 million naira, while fellow finalists and runners-up Ibom Angels went home with five million naira.
document.write("");