Real Madrid
Where Ronaldo scores his penalties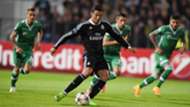 ---
ANALYSIS
---
Cristiano Ronaldo has now scored more penalties in the Primera Division that any other player - and he chose his favourite side to dispatch his 57th spot-kick in La Liga for Real Madrid.
Ronaldo breaks Liga penalty record
The Portuguese hit home in the 74th minute on Sunday to level the scores at 2-2 as Los Blancos came from two goals down to seal a vital victory away to Villarreal that kept the club on top.
Referee Jesus Gil Manzano awarded the contoversial penalty after the ball hit Bruno Soriano's hand in the box and Ronaldo kept his cool through protests from the home team to strike the ball low to the right of goalkeeper Andres Fernandez.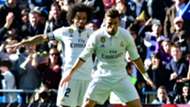 His 57th penalty in La Liga means he has now overtaken another Madrid icon, Hugo Sanchez, who scored 56 times from the spot in the Primera Division. And he chose his favoured side, with 27 of the total having been scored low to the goalkeeper's right.
Pique hits out after Madrid penalty
Of the remaining 30, 17 have been placed low to the goalkeeper's left, four low and straight down the middle, two central and high into the net, another four in the goalkeeper's top left corner and three in the top right. 
The 57 goals have come from 66 penalties, a success rate of 89%, with 37 scored at the Santiago Bernabeu and the other 20 netted away from home in La Liga.