Gareth Bale
Revealed: How Bale convinced Woodburn to snub England for Wales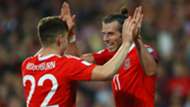 Gareth Bale has revealed the role he played in convincing Liverpool starlet Ben Woodburn to opt to play for Wales ahead of England.
Woodburn, who made an instant impact as he scored the winning goal against Austria on his international debut, was born in Nottingham and grew up in Cheshire.
Woodburn 15/8 to score anytime vs Moldova
But he has opted to represent Chris Coleman's Wales senior side over England, with Bale having talked to the 17-year-old back in 2015 in an attempt to sway his decision.
The Madrid star said: "I remember meeting him [Woodburn] in one game, I think it was against Holland [in November 2015].
"He was injured and he was sat in the box next to me as he's with my agency Stellar.
"I had a little chat with him then, getting [him] on board because obviously we knew he was a great player. We're delighted to have him - and he's Welsh anyway, he's ours."
Wales take on Moldova on Wednesday in World Cup qualification Group D and, with Coleman's men two points behind second-placed Republic of Ireland, Bale knows anything but a win is not an option with three games to go.
"I said we had four finals to keep our hopes alive," he added.
"If we win all four we'll have a great chance of top spot, and if not we'll get into the play-offs. One down, three to go. This is important too, we'll be going into the match confident and prepared very well.
"We know they'll make it difficult but we'll do everything to get the points and put ourselves in an even better position.
"If I didn't think we could do it [qualify] I wouldn't be here. We all still believe we can do it. That's the most important part."