Premier League
Return of the King: Pogba can reign at Man United for next 10 years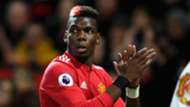 Jose Mourinho said in the run-up to this match that there was a Manchester United before Paul Pogba's injury and a Manchester United after.
That was not so apparent here because seconds after being replaced by Marouane Fellaini, Pogba watched from the entrance of the Old Trafford tunnel as Romelu Lukaku ended his own seven-game goal drought to put United 4-1 up. Business as usual - even with Pogba off the field - and a well-earned hot bath for the Frenchman on his return from a hamstring injury.
15/2 for Watford to beat West Ham 2-1
Pogba is by a distance United's best player and they simply cannot get by without him. That's why his return against Newcastle felt so crucial.
His presence on the starting team sheet here created a buzz among United fans before the kick-off, while Zlatan Ibrahimovic being named on the bench also taught Newcastle that whatever way this one was going, there would always be the threat of firepower in reserve. The Swede earned a rapturous ovation when he came on for Anthony Martial late on.
Mourinho has not enjoyed the best of records following international breaks throughout his time in charge at United. This was his first win in such fixtures -  and he will have been further displeased with the nature of the treatment Phil Jones received while on England duty.
Pogba, however, demonstrated the expertise and leadership needed to see United through an awkward date with Rafael Benitez's team.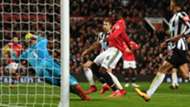 United lost two of their seven league games without their key midfielder in the line-up this season, as opposed to three wins and one draw in the matches when he was available before his injury against Basel in September.
During that time Manchester City have surged ahead in the title race, with Pogba's absence arguably the determining factor in separating a City side in total unison and a United one still in thrall to spells of individual quality.
His stamped his class all over this game even with United temporarily behind early on. He was the man to get United going by taking supply from the centre backs and the one creating the crucial equalising goal for Martial.
His footwork to embarrass Isaac Hayden just before the cross was as good as you'd see from any natural winger, while his willingness to take responsibility for any pass he could receive showed a growing acceptance of his standing as this team's creator-in-chief.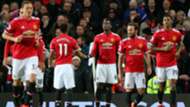 Despite the millions lavished on the team by Mourinho and Louis Van Gaal before him, this is still a work in progress. Pogba, however, looks ready to reign for 10 years.
Even on this, his first game back, he worked tirelessly and ate up the ground needed to capitalise on Marcus Rashford's knockdown for the third goal.
By that stage, Newcastle had played themselves to a standstill. They had shocked United through Dwight Gayle's early, well-taken goal. It was the first league goal United had conceded here all season and the first they had conceded from open play since Grant Leadbitter scored for relegated Middlesbrough on New Year's Eve in 2016.
Martial and Pogba were both on the scoresheet that day too as Mourinho's side pulled off a Ferguson-esque great escape. This time they overturned Newcastle to hang on the coattails of City with some attractive fixtures against Brighton and Hove Albion at home and Watford away before Arsenal and the derby.
In order to keep the momentum going to that looming December 10 deadline, Mourinho will need Pogba fit and firing at his very best - and the Portuguese knows it.
"Pogba was top," the United boss enthused afterwards. "It looked like he had not been out [injured]. He came back with a really big performance, really influencing the game. 
"When he was injured I decided to close my mouth because I think it was the best thing to do at the time. We cannot be crying. We have to play without a certain player, we have to try find solutions that we have. 
"But we all know - myself and his team-mates - that some players influence the level of the team. And he affects our game."
Indeed, Pogba has yielded four goals and four assists in his last six league appearances. He may no longer be the world's most expensive footballer but he is approaching the level of the world's best midfielder.