Goal United
Renato Sanches can follow Ronaldo's path to greatness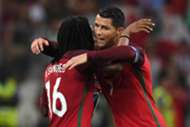 ---

COMMENT
---
He's the 18-year-old Portuguese super talent with a lucrative move to one of Europe's biggest clubs already behind him. He is the teenager who has broken national team records in his first senior tournament. He is the young star who already looks destined for greatness. In no time at all, he's become general of the team; simply could not be ignored any longer.
These sentences could accurately describe the sharp upward trajectory of Renato Sanches's fledgling career but they also reflect the coming-of-age of his Portugal captain Cristiano Ronaldo at the start of the century. Sanches – who has just left Benfica for the bright lights of Bayern Munich for an initial €35 million fee – can and will learn a lot from the 31-year-old Ronaldo.
The Real Madrid star – a three-time Ballon d'Or winner – has set the template for what it takes to succeed. In particular, he has written the book on how young Portuguese talents can deliver on their potential and not be overawed or taken astray along the way. Portugal has provided a strong production line of talent – of which Ronaldo is undoubtedly the most successful – but plenty of his peers and those who came after had just as much talent, if not more, but did not enjoy half as much individual or team acclaim.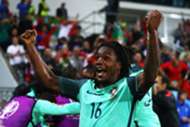 Ricardo Quaresma, Hugo Viana, Nani, Miguel Veloso are just some of the names who were tipped for the very top but who, for one reason or another, failed to take that final step to greatness like Ronaldo did. If Renato Sanches stays on the path then he too possesses the raw material to become a great.
That is not to load the teen down with the pressure of winning three Ballons d'Or – he might never win one – but he owes it to his talent to develop as well as he can. For that, he can look up to his captain.
Ronaldo had the ingredients to be an effective, top-level player from his mid-teens onward. It is a myth that Manchester United signed him on the back of one friendly performance for Sporting in August 2003. A deal was tied up long before that and Liverpool, Barcelona and Arsenal had already had a look. Ronaldo was very much on the radar of the best clubs as a result of his performances for various Portuguese under-age teams too.
His move to Manchester United was only the beginning of his journey, one which took him to the very top. Ronaldo has no one else to thank for his development. He was by no means assured of being the best player in the world when he joined United. By the time Wayne Rooney joined after Euro 2004, it was arguable that he was even the best player they had born in 1985.
The club's development coach from 2001 to 2011, Mike Clegg, though has always said that Ronaldo was the most-dedicated young professional trainer he had ever seen. He would go in early to work on his core. He would then train with the team. He would stay behind with ankle weights strapped on to practice his footwork and those famous stepovers. Then he'd go home to swim and go to bed. That was every day, day-after-day, season after season.
Renato's talent, dedication and physical development have got him to this point but he must keep that gap between himself and his peers intact. To do so, he must work harder than them all. His new coach, Carlo Ancelotti, only has good things to say about Ronaldo too and will no doubt impart vital advice to his new charge. He will show him how to grow technically and tactically.
The Portugal coach Fernando Santos – while comparing Renato to one of Portugal's all-time greats Mario Coluna – insisted that the midfielder is not yet the player he will be in the future. He seems to think Renato has plenty to learn about controlling matches and sustaining possession. That dynamism in his game and that eagerness to move the team forward will always be key aspects to his game but Renato will find his identity.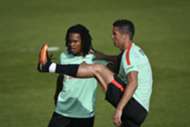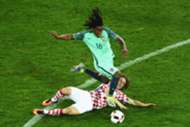 Similarly, Ronaldo started life as a right winger but Sir Alex Ferguson quickly developed him into an attacking all-rounder who played left, right, up front and even in behind the front man. His reward was devastating form and a first Ballon d'Or. After joining Real Madrid though, Ronaldo accepted that his game needed to change. He no longer reigns down the left wing, beating players and coming inside to shoot at goal. He plays as a centre forward from a left-sided starting point. He chooses his runs carefully. It is a different Cristiano but it needs to be in order for the goals to continue to flow. And they have.
There will be bumps in the road; there will be injuries, controversy, red cards, vilification from the press. Ronaldo had it and endured it. He missed plenty of the 2008-09 season with an ankle injury which kept him out for around 12 weeks. He tried to leave Manchester United in 2006 after being accused of getting Wayne Rooney sent off at the World Cup. The club did not do enough to support him, he said at the time. He was persuaded to stay but was at it again in 2008, agitating for a move to Real Madrid by agreeing with Sepp Blatter's assertion that United demanding to keep him was tantamount to modern slavery. He's been sent off for reacting to the provocations of opponents. He insists he's learned from those displays of petulance. Describing his detractors as "jealous" because he is "young, rich and handsome" in 2011 caused plenty of bad press; he has since grown up and apologised.
The ability to absorb blows, shake off criticism and strive for the top have been the hallmarks of Ronaldo's winning personality. He has spent plenty of time at this tournament with his arm around Renato's shoulder, tugging his dreadlocks, and looking after him in the Portugal camp. Renato is who Ronaldo was 12 years ago. It'll be a long journey but with the right guidance there is no reason why he can't be as successful – and do a similar job when the next one comes along… perhaps in 2028.
Goal journalists are powered by the Samsung Galaxy S7 and Gear 360