Transfers
Red Bulls sign Argentine playmaker Kaku as designated player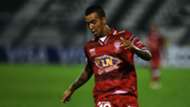 The New York Red Bulls have signed Argentine playmaker Alejandro "Kaku" Romero Gamarra from Club Atletico Huracan, the MLS side announced Friday.
A former Argentina youth international, Gamarra joins the Red Bulls as the first young designated player in club history. Huracan announced in December that New York had paid a $6.25 million transfer fee for the 23-year-old, with the Argentine side set to receive 20 percent of any future sale.
Gamarra has recorded eight goals and 13 assists in 95 matches since debuting for Huracan in 2015.
"When we identified Kaku, he quickly became our top offseason target," Red Bulls sporting director Denis Hamlett said in a news release. "He fits the profile of the player we are looking for: highly skilled, creative and hard-working. During our discussions, we realized that we are adding a good player and great young man to our team. We look forward to seeing him continue to grow as part of the New York Red Bulls."
Gamarra has represented Argentina through the Under-20 level, making three appearances at the 2015 U-20 World Cup.
He has been brought in to fill the creative void left by playmaker Sacha Kljestan, who was sent to Orlando City in a trade last month. Orlando also acquired $150,000 in allocation money from New York in the deal, which saw the Red Bulls add forward Carlos Rivas and defender Tommy Redding.
Kljestan recorded 17 goals and league-best 53 assists over the past three seasons with New York, leaving Gamarra with sizable shoes to fill.
"Kaku is a very exciting player and a great person," Red Bulls coach Jesse Marsch said. "He is a creative, dynamic attacker who can change the game by scoring and setting up teammates. He has an excellent grasp of the game and I think he will thrive in our style of play. He is ecstatic to be joining us and we can't wait to get to work."
The Red Bulls open their 2018 campaign with a trip to face Honduran Olimpia in the CONCACAF Champions League round of 16 on Thursday before hosting the return leg March 1.
New York kicks off in MLS play against the Portland Timbers on March 10 at Red Bull Arena.