Transfers
Rantsi Mokoena: Free State Stars coach Luc Eymael ready to snub Kaizer Chiefs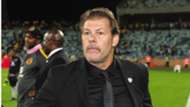 Free State Stars general manager Rantsi Mokoena has insisted that coach Luc Eymael will still be in charge of the team next season.
Eymael, who has been praised for transforming Stars into a top eight Premier Soccer League (PSL) challenger, is reportedly on Kaizer Chiefs' radar with the Soweto giants expected to part ways with their current coach Steve Komphela when his contract expires in June 2018.
Stars are set to take on Chiefs in the Nedbank Cup semi-final clash at the FNB Stadium on Saturday as Komphela looks to keep his hopes of winning his first major trophy with Amakhosi alive by reaching the final with a win over a stubborn Ea Lla Koto side.
"The years that I have been in football have taught me that you can't run your club based on rumours," Mokoena told the media at a press conference.
"That rumour has been doing the rounds for a while now. It's nothing new as far as Free State Stars is concerned. Every time a player does well or a coach does well, then for some reason the media starts talking about him moving long before clubs have approached us," he continued.
Ea Lla Koto, who battled to avoid relegation from the PSL in the last few seasons, have improved under the Belgian, who was appointed last August replacing Sammy Troughton. They are placed fifth on the league standings - three points behind fourth-placed Chiefs with three games left.
"With regard to the coach possibly going to Chiefs or not, only he and Chiefs have the answer to that. We've had numerous conversations with the coach, and he is very open to me and I am very open to him. We have a contract that we both respect. We know the terms of the contract and what it says," the club official explained. 
"The fact that we constantly talk about Free State Stars and we are planning for the future, I am very confident that come the beginning of the 2018/19 season, Luc will be on the bench. But this is football. Every time the window opens, a lot of things happen in football. I can say with confidence that Luc will be here. But with the years that I have been in the game, I do have room for disappointment. I am not necessarily saying that he will move or he is moving," he said.
"I also believe that with Chiefs being the team that they are and the relationship that I have with Chiefs, they would be respectful enough to give us a call and say that we are interested in this and that, how do we work our way forward. I wouldn't read about it in the newspapers," he revealed.
Mokoena did confirm that Eymael has been approached by several PSL clubs including Chiefs and that he has room for disappointment in case Eymael decides to leave the Bethlehem-based outfit.
"The only person that I trust in this world is my son. But I do trust Luc. I trust him in the sense that the time I have spent with him, we have been frank with one another. We sometimes clash with our ideas and we sometimes fight, but it's all in the name of Free State Stars and bettering ourselves," he added.
"He comes with a lot of European mentality, and sometimes it doesn't sit well with Africa. But we often find a common ground. What I trust about him is his frankness. I don't want to reveal too much on why I trust him so much. He has given me enough reasons to trust him," Mokoena explained.
"He's been approached by other clubs (in the PSL), other than Chiefs, that I know about. And I didn't hear it from you guys (the media), he told me about it. He would come to my office and say that this guy called me. He has sometimes been phoned in my presence," he indicated.
"His answer to the many suitors has been consistent, 'Gentlemen, I am very happy where I am, I want to achieve something here'. We take it as a compliment because it means that he has found a home and is settling in well," he concluded.