Lionel Messi
'Rangers tried to buy Messi - but were offered Iniesta instead!'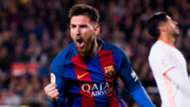 Ex-Rangers manager Alex McCleish has revealed the sensational bid the Scottish giants made for Lionel Messi - based on football game Championship Manager. 
Back in 2002, the Gers were faced with the challenge of replacing Barry Ferguson when the midfielder moved to Blackburn Rovers. 
And based on glowing virtual testimony, McCleish enquired over the possibility of signing a teenaged Messi from Barcelona.
Messi values Olympic gold most
"My son Jon was into Championship Manager," he explained to The Big Interview.
"He was constantly giving me names in South America. They come out the sky and say 'Lionel Messi is going to be the best player in the world'.
"He was 13 or 14 at the time. You dismiss it but Rangers were downsizing and we were looking for some quality in midfield.
"Barry Ferguson had gone down to Blackburn so we lost a guy who would have taken the ball in any stadium anywhere in the world. We needed players of that ilk again.
"Jan Wouters phoned Henk ten Cate, who was the assistant of Frank Rijkaard, the ex-Dutch international.
"Jan phoned him and said: 'Messi?' We were told no chance."
But after the negative response over the Argentine, Rangers came close to landing future World Cup winner Andres Iniesta.
"He said 'we've got a young kid, Iniesta, he's a phenomenal player', only 18 or 19," McCleish continued.
"We said 'can he come to Scotland?'
"They said 'yep I'll try and make hay at Barcelona and get him over to you. He needs to get some action'.
Will Pirlo join Conte at Chelsea?
"By the Monday Iniesta was called into the team and he played a stormer.
"Ten Cate came back and Jan asked him 'what about the wee man? Are we getting him?'"
"Ten Cate sighed and said we had no chance."