Transfers
Pumas sign Iturbe, Malcorra confirm Castillo, Torres exits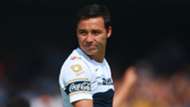 Pumas are looking to retool after last tournament's seventh-place finish, announcing a number of transfers as preseason training nears ahead of the 2018 Apertura.
Star forward Nicolas Castillo's rumored move to Benfica has been completed, and former Houston Dynamo striker Erick "Cubo" Torres also is set to leave the club. The forwards had diverse levels of success, with Castillo powering Pumas' attack with 25 goals scored over three tournaments. Torres arrived from MLS in the winter and scored just twice for the club with both goals coming in Copa MX.
Torres is headed north again, but stopping just before the U.S.-Mexico border to join Club Tijuana. Defender Luis Fuentes, a regular who saw time in 18 of Pumas' 19 matches last season, also is joining Xolos. 
Pumas are getting a pair of players coming the other way from Tijuana with midfielders Juan Iturbe and Víctor Malcorra arriving. Itrube missed most of the season with an ACL injury suffered at the beginning of the Clausura while Malcorra helped Xolos to the Liga MX semifinal.
The midfield also will be bolstered by Martin Rodriguez, who spent the last year at Cruz Azul. The 23-year-old Chilean can play on the wing or as an attacking midfielder.
Miguel Fraga, formerly Atlas' goalkeeper, also will join Pumas, ending a long hunt to upgrade at that position after bidding farewell to veteran shot-stopper Alejandro Palacios in 2017. 
Pumas raced out to an early lead in the 2018 Clausura after finishing in last place in the 2017 Apertura. The team cooled off, but manager David Patino still was able to get the side into the Liguilla where they were eliminated by Club America.
The Liga MX Apertura will begin July 20, the league announced Monday, with transfers set to be finalized Wednesday in the league's annual 'draft'.