Transfers
Pumas sign Erick 'Cubo' Torres from Houston Dynamo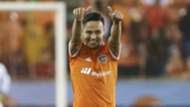 "El Cubo" is returning to Mexico.
Guadalajara native Erick Torres has signed with Pumas, the Mexico City club announced Wednesday, moving from the Houston Dynamo for an undisclosed fee. Houston confirmed the deal on Thursday.
"We thank Erick for his contributions to the Houston Dynamo over the last three years," Dynamo general manager Matt Jordan said in a club release. "We wish him all the best at Pumas."
"I'm happy to return to Mexican soccer, to return with an important team like Pumas," Torres told Televisa. "I'm coming here to work, to train very hard, that's something that I'm known for, the desire I have and I think Pumas also is known for that, for having players who have desire.
"There's a fan base that supports the team well, it's always there for the players, supporting them 100 percent. I'm here for that, to give everything, to enjoy this experience at this club that's one of the grandes. I'm very happy to be here."
Torres was the Dynamo's top scorer last season with 14 goals but scored just three times after July 1 and lost his grip on a starting spot. Colombian forward Mauro Manotas and Honduras international Alberth Elis both added 10 goals for the Dynamo last season, and the club felt comfortable shopping the designated player. A deal with Veracruz fell through earlier in January with Torres telling reporters this week that he was ready to dedicate himself to Houston.
Instead, Pumas came through with a late bid to add depth to its squad. Los Auriazules sit atop the Liga MX table after three weeks but don't have to think back far to remember needing a forward. Chilean star Nicolas Castillo was injured in the previous campaign and found the back of the net just 14 times. 
They now have added depth, though the 25-year-old is yet to prove himself in Liga MX. After a standout campaign with Chivas USA in 2014 during which he scored 15 goals, Torres returned to Guadalajara to play for Chivas. He made five appearances in the 2015 Clausura and scored twice but moved on to Houston as a designated player in the summer of 2015. 
Torres briefly headed back to Mexico, making three appearances on loan with Cruz Azul. La Maquina declined the option to buy him at the end of the loan and he returned to Texas. He feels that this time he will be able to make a mark in the league.
¡Bienvenido a tu nueva casa, @erickestefano15! ¡Bienvenido a Pumas!#PorNuestraHistoria #SoyDePumas pic.twitter.com/cX5eEvYyhK

— PUMAS (@PumasMX) January 25, 2018
"It's the best moment of my career, the best time of my personal life as well," he said. "I just turned 25, I have experience, experience with the national team, with the youth national teams, with experience at important clubs and I think I come at a good age to do big things. I'm going to take advantage of this opportunity and do things well with hard work."
The move was announced Wednesday night after Torres spoke with Televisa already wearing Pumas colors during the club's cup match against Juarez.