Premier League
Pulisic, Lainez & the top five teenage stars to watch from CONCACAF
Nations such as Mexico, Costa Rica and the United States have produced some excellent talents in recent years. Goal looks at five new young starlets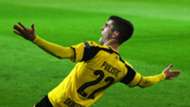 This is the last World Cup cycle some of CONCACAF's best-ever players will play. Clint Dempsey, Bryan Ruiz, Andres Guardado and Rafa Marquez (unless the 38-year-old is fitted with bionic legs) won't continue on to 2022. But there are plenty of teenagers in the pipeline for CONCACAF's top teams.
Donnarumma crowned NxGn winner
Players not yet eligible for a CONCACAF country, such as Vancouver Whitecaps standout and likely future Canadian Alphonso Davies, are not yet eligible for this list.
Goal takes a look at five talents to keep an eye on...
---
CHRISTIAN PULISIC
---

If you haven't seen what Pulisic is doing, you haven't been paying attention. Though just 18 years old, the Pennsylvania native already is talented enough to give U.S. national team coach Bruce Arena significant thought about where - not whether - to play him in the starting lineup.
NxGn: The top 50 teenage talents
Pulisic can play out wide or centrally and is able to create but also score clever goals like the one he registered during Dortmund's victory over Benfica in the UEFA Champions League.
PULISIC! What a finish, and what a moment to get your 1st career Champions League goal! @cpulisic_10 #UCL #BVBSLB https://t.co/GADtrg7qBT

— FOX Soccer (@FOXSoccer) March 8, 2017
With vision and maturity far beyond his years, both on and off the field, Pulisic seems certain to be a fixture for the U.S. national team for the decade to come and beyond.
---
DIEGO LAINEZ
---

Players who have compared themselves to Lionel Messi are a dime a dozen, but while Diego Lainez says he's modelled his game after the Barcelona great he backs up the talk.
Donnarumma can be better than Buffon
In helping the Mexico U-17 side win the Copa UC youth tournament organized in late 2016 by Chilean club Universidad Catolica, the 16-year-old Lainez showed flashes of the Atomic Flea, shrugging off players who realized resorting to fouling was their only chance to stop him.
Diego Laínez vs Universidad Católica (16 dec.) pic.twitter.com/4qItVWUcEi

— Felipe Araya (@felaraya) December 19, 2016
Those skills have earned him a first-team debut with Club America, and while El Tri is well-stocked with talented attackers Lainez's versatility could catch Mexico coach Juan Carlos Osorio's eye sooner rather than later. Lainez told Goal he can play on the wing, as a No. 9 or as a second striker. He's the kind of player Club America and Mexico alike will want to find a place for on the field.
---
CAMERON CARTER-VICKERS
---

Nineteen-year-old defender Cameron Carter-Vickers has flirted with his Premier League debut with Tottenham, making the bench 14 times in the 2016-17 season, but has yet to play a minute. He has, however, made four starts in cup competitions, most recently in a pair of FA Cup victories.
The powerful centre-back has represented the United States at U-23, U-20 and U-18 levels and was just 17 when he played every minute of the U.S. team's run to the 2015 U-20 World Cup quarterfinals.
Donnarumma's brother reveals all
The England-born defender told Goal in November that he intends on playing for the U.S. team despite still being eligible to play for England. Former U.S. national team coach Jurgen Klinsmann called up the defender for his World Cup qualification squad to face Mexico and Costa Rica, and though he didn't see any action in those games, and Bruce Arena hasn't called him for the March qualifiers, it won't be long before CCV is seeing time for club and country.
---
EDSON ALVAREZ
---

If he ever gets the chance, Edson Alvarez has some frequent flyer miles he can use to get away. He played with Club America at the Club World Cup in Japan and returned to Mexico to feature in both legs of the final as America finished runners-up.
Then, he was off to Las Vegas to play for Juan Carlos Osorio's national team in a friendly in Las Vegas, Nevada. After a stop again in Mexico City, it was down to Costa Rica to help Mexico qualify for the U-20 World Cup.
Mbappe can dominate like Messi & CR7
He's now staying with America, but perhaps not for long. His ability with the ball at his feet gives him the flexibility to play at both centre back or as a holding midfielder, something both club coach Ricardo La Volpe and Osorio have explored. We might be talking soon about flights across the Atlantic with Alvarez potentially a target for Europe but also set for more senior team call-ups.
---
ROBERTO ALVARADO
---
In minute 50, Roberto Alvarado brought @Tuzos level with Xolos at 1-1 with this finish!  #LigaMXEng #J9CL2017 pic.twitter.com/VgDvd93x0I

— Fut Mex Nation (@FutMexNation) March 4, 2017
Pachuca fans have reason to be concerned about losing 21-year-old winger Hirving Lozano this summer, but the club is taking steps to replace "El Chucky." Roberto Alvarado is an 18-year-old who debuted in the Mexican second division less than a month after turning 15. The playing time in the Ascenso paid off, with Pachuca swooping in for him in the winter transfer market.
Tuzos coach Diego Alonso is never shy about giving young players a chance, and with Lozano injured in a league game against Tijuana, Alonso turned to Alvarado. 'El Piojo' rewarded his good faith with a goal that started a comeback and helped the team win the game.
Teenage talents who failed to fulfil potential
On the play he beat the right-back, played a smart pass to the inside and then ran to the back post to finish off a shot attempt from a team-mate on the right wing - a true hustle play. He's since seen time in the CONCACAF Champions League and should assuage fears about a drop in quality for Pachuca when Lozano is sold to Europe.