Napoli
Preview: Napoli v Liverpool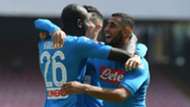 Napoli coach Carlo Ancelotti stated how his team would be idiots if they failed to qualify for the knockout stages of the Champions League and will need only a draw against Liverpool when the two sides meet at Anfield.
But for any side visiting Anfield sooner or later they will realise how the atmosphere can affect the game especially in favour of the home team. However Ancelotti is an experienced coach especially in the Champions League and he knows should the Partenopei keep their cool, Napoli could send the Reds tumbling out of the competition.
Napoli for their part will be going into the tie on the back of a 12-match unbeaten run in all competitions and beat Liverpool 1-0 with a late Lorenzo Insigne goal when the two sides met at the Stadio San Paolo in October. Liverpool, on the other hand, overtook Manchester City at the top of the Premier League table with a 4-0 victory over Bournemouth.
Despite needing only a draw, Ancelotti vowed that his team will not sit back and this is what Napoli need to do. They must not allow Liverpool time and space because that will only invite unnecessary pressure which could see the Southern Italian team crumble. Marek Hamsik, Lorenzo Insigne, Dries Mertens will spearhead the Naples side' attack but the heavier responsibility of limiting Liverpool's talented forwards will rest on the shoulders of Kalidou Koulibaly and Raul Albiol.
Napoli has only conceded four goals in the group and will need that exact defensive steel to see them through. All of this adds to the excitement in what can be described as another classic European clash under the floodlights of one of Europe's most sacred footballing grounds.