Al Ahli v Al Hilal
Preview: Al Hilal's key to beating Al Ahli in title clash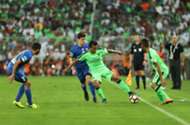 Al Hilal will be a tough guest for Al Ahli at the King Abdullah Sports City Stadium in matchweek 25 of the Saudi Pro League.
Al Hilal are looking for the three points that will clinch the 2017-18 league title for them, as they sit on 52 points at the top of the table, ahead of Al Ahli by one point with just one matchweek to go for the season. On the other hand, if Al Ahli win, they need a win in their final game of the season to guarantee the league title.
How will Al Hilal set up against Al Ahli?
Juan Brown may enter this game with a 4-2-3-1 formation as they did against Al Ain: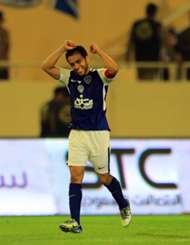 Abdulla Al Mayouf
Mohammed Al Burayk – Osama Hawsawi – Mohammed Jahfali – Abdulla Al Zori
Abdulla Otayf – Nicolas Milesi
Ahmed Achraf – Achraf Bencharki – Yasser Al Shahrani
Gelmin Rivas
What factors will lead to Al Hilal's win:
Midfield battle: Al Hilal need the quality of passing and controlling the ball under pressure to get past Al Ahli's high pressure and dominate the midfield, so they can let the ball reach the final third with ease to create many chances.
Connections on the flanks: the pushing up of the full backs in the offensive phase has been a common tactic for Al Hilal, but forming connections with the new wingers Achraf Bencharki and Ahmed Achraf is key to any chances of winning
Mentality: if Al Hilal's players are able to better the high pressures that will be associated with this game, they can translate their chances into goals which is highly important for them, since they have been prone to missing golden chances as of late.