Premier League
Premier League review, brought to you by Dashing Elite - Man Utd keep perfect start intact!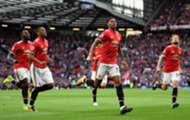 Three wins in the opening three games of the season for Manchester United is not a new feat – the Red Devils had done the same in the last season before slipping down the table. What makes the achievements resolute this season, however, is the manner in which Jose Mourinho's team has found the wins.
Mindful in possession, patient in defence, and relentless in attack, United's three wins see them claim the top spot in the Premier League before the international break with 10 goals scored and none conceded. On Saturday, goals by substitutes Marcus Rashford and Marouane Fellaini accounted for the 2-0 win at Old Trafford against Leicester City.
Against the Foxes, United were facing a tricky opposition that had been building momentum and knew quite well how to score goals. For their opening fixture, Leicester did suffer a loss, but they stretched Arsenal to the brink in a 4-3 defeat, before marching past Brighton and Hove Albion.
Despite what the scoreline suggests, Leicester proved worthy opponents to high-flying United.
Centre-backs Harry Maguire and Wes Morgan had done well to man-mark Romelu Lukaku, who had netted thrice in United's first two fixtures. The powerful striker found it difficult to find space against the pair, and at times became predictable in his approach towards goal.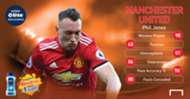 When he did get past the defenders, Kasper Schmeichel was there to parry away a shot, as the Dane had done in the 18th minute. On that occasion though, Juan Mata was on hand to find the net from the rebound, only for the assistant referee to flag offside.
Schmeichel was there again, in the 53rd minute, when he got both hands to a powerfully struck spot kick by Lukaku. Somehow, despite the pressure, an organised Leicester unit was hanging on to the clean sheet.
Mourinho then sent on Rashford in the 67th minute, and the young England striker got into position to volley home Henrikh Mkhitaryan's out-swinging corner three minutes later. Having broken the deadlock, United now seemed in firm control of the outcome.
The visitors did continue to restrict Lukaku's involvement. The Belgian, frustrated, lost his composure when he got a chance at goal, sending his shot into the stands.
Instead, it was his fellow countryman who found the goal that would seal the win. In the 82nd minute, substitute Jesse Lingard rushed up the left flank, cut in and put in a low cross that Fellaini guided home with his knee.
Still early in the season, United have by far looked the best team in England – and the only one to win three in three.