Intercontinental Cup
Poor planning & flawed concept - Intercontinental Cup 2018 turning into a farce!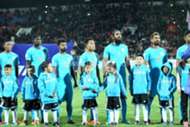 The Mumbai Football Arena is all set to host the first (or rather the latest) edition of the Intercontinental Cup from June 1, 2018. The tournament, featuring the likes of New Zealand, Kenya and Chinese Taipei apart from hosts India, has been paraded around as a litmus test for the Indian team which is preparing for the 2019 AFC Asian Cup. 
If we take a look at the concept of the Intercontinental Cup, it does not make sense to start this tournament at this point in time. India are pitted against UAE, Bahrain and Thailand in the Asian Cup which starts in January 2019. 
In preparation for this tournament, shouldn't India have played Asian countries with similar playing styles to the aforementioned teams? Wouldn't that count as proper preparation rather than playing countries from Africa and Oceania? Chinese Taipei, though from Asia, have not played the Asian Cup after 1968 and are clearly not the kind of team one wants to meet in preparation for the continental extravaganza. 
Which brings us back to the question of who picked these teams! Was the coach consulted before the teams were decided? Or was it just planned according to the whims and fancies of somebody who does not understand the nuances of the sport? It certainly seems so.  
The Indian FA needs to answer why aren't we playing countries who have already qualified for the 2019 Asian Cup. Did they reach out to all 20 teams (apart from teams from India's group) and enquire about their availability for a friendly tournament in India? 
While there is a suggestion that stronger teams do not want to play India, certainly there are teams in those 20 who would be ready to play. 
It just reinforces the fact that the planning for the senior team is almost non-existent. We are just playing whoever is available without giving much cognizance to what these teams offer India and how does it help fulfill the Blue Tigers' immediate or long-term objective. 
When one sees the India U16 team, who are in preparation for the 2018 AFC U16 Championship, do so well under some immaculate planning that has seen them undertake exposure trips and play good teams, fingers have to be raised at those who are in charge of the senior team. 
One must note that India U16s played against Tajikistan and Jordan in a recent friendly tournament in Serbia and won against both. The fact to highlight here is that Tajikistan and Jordan will be playing in the AFC U16 Championship and the good result against them has given the colts belief that they can do well in the tournament scheduled for September this year.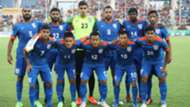 Coming back to the Intercontinental Cup, Kenya and New Zealand will not be sending forth their strongest teams. The Super Cup is ongoing in Kenya right now and Harambee Stars will be without at least six major players after Gor Mahia, a club in Kenya, decided against releasing these players because of club commitments. Moreover, Kenya's biggest star, Victor Wanyama will also not be a part of the squad. 
The same case with New Zealand. Chris Wood and Winston Reid, who ply their trade in the Premier League, will not be a part of the team coming to India. Moreover, other regulars like Michael McGlinchey, Marco Rojas, Michael Boxall, Jeremy Brockie, Ryan Thomas and Themi Tzimopoulos are all unavailable. And the All Whites have six uncaped players in their squad. 
Why did the organisers not know beforehand that Kenya's domestic season is ongoing and hence most of their first-team players might not make it to India? Research and analysis seem to be alien concepts for whoever planned the Intercontinental Cup. 
According to the contractual obligation between the AIFF and IMG-Reliance, there has to be a international tournament every year. Are you obliging your sponsors with a tournament that has been haphazardly organised and involves 'B' teams of participating countries? It seems to be a waste of money. 
One wonders if the exercise was limited to putting a map on the table and blindly picking a country from each continent!